Commercial Roofing Solutions in Baton Rouge, LA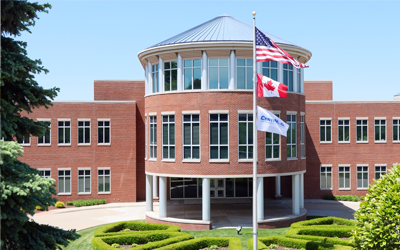 National Commercial Roofing Company
CentiMark is a commercial roofing company that is dedicated to providing the highest level of products and services. CentiMark is a nationwide industrial and commercial roofing company with locations throughout the United States. This location in Baton Rouge services the city as well as surrounding areas in Louisiana including East and Southern Louisiana as well as the cities of Alexandria, Lafayette, Lake Charles, New Iberia and New Orleans. This CentiMark office also provides services to areas of Mississippi including the city of Jackson.
Commercial Roof Systems
CentiMark offers a variety of commercial and industrial roofing systems all of which are installed by our experienced roofing crews and backed by our Single Source Warranty. CentiMark's options for roof systems include: Thermoplastic Polyolefin (TPO), Polyvinyl Chloride (PVC), Ethylene Propylene Diene Monomer (EPDM), Spray Polyurethane Foam (SPF) Systems, Roof Coatings, Built-Up Roof Membranes (BUR), Modified Bitumen (Mod-Bit), Metal Roofing as well as Steep Slope Roofing.
If looking for sustainable green roofing options, CentiMark offers numerous environmentally friendly commercial roofing options. Green roofing solutions include Photovoltaic (PV) solar panels, cool roofs, garden roofs and daylighting through prismatic skylights or light tubes. These green roofing options may also contribute to earning LEED points so be sure to check with your CentiMark appointed project manager if that is something you are interested in.

Roofing Services in Baton Rouge
CentiMark's commercial roofing services are unparalleled in the industry. CentiMark's experienced crews are ready to inspect, repair and service your roof. CentiMark provides a variety of roofing services including commercial reroofing, preventative maintenance, roof cleaning, roofing repairs (storm damage, hurricane damage, leaks), emergency roof response, roof inspections, asset management and asset alert programs.

The CentiMark Difference
CentiMark's Baton Rouge crews install the best commercial and industrial roofing systems.
Safety procedures and plans are in place for every roofing job, and the safety plans are always reviewed with the customer.
Single Source Roofing Warranty is available, which is customizable, extendable and transferable.
Commercial roofing references are available by roof size, type or industry.
Dedicated crews specializing in service provide warranty work and emergency repairs.
Preventative Maintenance Programs and online roof management tools are available.
Are you in need of commercial flooring services or products in Louisiana?
Contact Us Today!
Looking for professional commercial roofing services in Baton Rouge, LA? Our dedicated team is ready to assist you with all your roofing needs. Simply fill out the form below, and we'll promptly get back to you, providing the reliable solutions you're looking for!