Commercial Roofing Company Serving Cedar Rapids, IA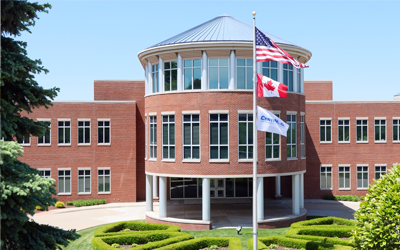 CentiMark Offers Commercial Roofing for Cedar Rapids Companies    
If you need commercial roofing installations or repairs in Cedar Rapids, IA, CentiMark delivers outstanding options for your commercial buildings in our area. Whether you need repairs from experienced commercial roofing contractors or an entirely new roof for your commercial property, CentiMark has the skilled and knowledgeable team you need to achieve the best results for your roofing project. We offer the best options for your business in Cedar Rapids, IA and across North America.


Options for Commercial Roofing in Cedar Rapids
At CentiMark, we can provide an array of choices to help you find the commercial roofing options you need for your properties. Some of our most popular options for commercial roofing in Cedar Rapids include the following:
CentiMark also offers green roofing options that include garden roofs, LEED-certified roofing and many other solutions that are good for your business and for the environment.


CentiMark Delivers the Best Commercial Roofing Services
CentiMark is a leading commercial roofing company with the expertise you need to ensure that your roof is maintained properly. We offer commercial roofing services designed to suit your needs, including the following service options:
Roof repairs available 24 hours a day and seven days a week to help you manage emergency needs
Preventative maintenance for your roof on a schedule that works for you
Roof cleaning and snow removal to keep your Cedar Rapids roof in tip-top shape
Asset and portfolio management tools 
CentiMark's team of skilled commercial roofing contractors can provide you with the perfect selection of services for all your roofing needs. We work with you to deliver the right set of options for your commercial properties.


The CentiMark Difference
At CentiMark, our commitment to quality work and customer service has allowed us to deliver the best solutions in the commercial roofing industry:
Our people make the difference. We employ experienced commercial roofing contractors with years of experience in the roofing field.
We are committed to safety at CentiMark. Our team will provide you with a safety plan that explains how we will maintain a safe working environment for our crew and your building.
You can see and manage your roofing projects online through our easy-to-use interface.
Our Single Source Roof Warranty is second to none in the industry and can be extended, customized or transferred to new property owners.
Our references are organized not only by size and roof type but also by the industry served.
At CentiMark, we offer the best range of services and roofing options for you. Call us today at 319-206-9650 for commercial roofing in Cedar Rapids. You can also visit us online to learn more about our lineup of roofing installation options and services.
Contact Us Today!
Looking for professional commercial roofing services in Cedar Rapids, IA? Our dedicated team is ready to assist you with all your roofing needs. Simply fill out the form below, and we'll promptly get back to you, providing the reliable solutions you're looking for!