Commercial & Industrial Roofing Services in Charlotte, NC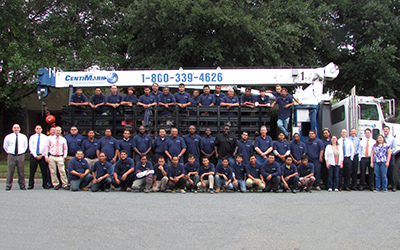 National Commercial & Industrial Roofing Company
CentiMark is a nationwide commercial roofing company with individual roofing offices located throughout the United States. This office located in Charlotte, NC services the surrounding areas in North Carolina as well nearby cities in South Carolina including Rock Hill, Greenville and Spartanburg.
As a premier roofing contractor in Charlotte, NC, CentiMark offers a diverse set of services designed to address the commercial and industrial roofing needs of North and South Carolina customers in a benefits and value-driven manner.

Charlotte Roofing Contractor Services
CentiMark has highly-trained commercial roofing crews that deliver roof services such as preventative maintenance, roof evaluation, roof cleaning, storm damage repair, emergency roof repairs and more to ensure customers' immediate needs are met.

Commercial and Industrial Roofing Systems
During the initial planning phase for installation and reroofing services, experienced CentiMark personnel thoroughly evaluate customers' needs before delivering recommendations for the ideal roofing system. Commercial roofing choices offered by CentiMark include BUR (Built-up Roof Systems), Mod-Bit (Modified Bitumen), EPDM (Ethylene Propylene Diene Monomer), PVC (Polyvinyl Chloride), SPF (Spray Polyurethane Foam), TPO (Thermoplastic Polyolefin), Roof Coatings, Metal Roof Systems, Steep Slope Roofs and more.

Green Roofing Choices
Ecologically-friendly commercial roofing choices continue to grow in popularity, and CentiMark is at the forefront of this Charlotte commercial roofing industry. CentiMark offers an expansive array of options such as garden roofing, daylighting through prismatic skylights or light tubes, Photovoltaic (PV) solar panels, and cool roofs that are highly reflective of the sun's radiant heat. All of these energy-efficient roofing options help Charlotte area businesses offset utility costs while being kind to the environment.
CentiMark's green roofing options can also help with earning LEED points. If interested, inquire about the available options that may contribute to LEED points.
The CentiMark Difference:
CentiMark roofs are professionally installed by highly-trained CentiMark crews providing superior quality.
Safety plans and procedures are an important part of every CentiMark job and are communicated with the customer.
CentiMark has a single source warranty that can be customized to meet the needs of their customers as well as transferred and extended.
Extensive references are available and are specific to roof type, size and industry from this Charlotte, NC roofing contractor.
CentiMark employs crews dedicated to providing emergency repairs and warranty work to address urgent situations.
CentiMark, a Charlotte, NC commercial roofing contractor, makes tools, like online roof management and preventative maintenance programs, available.
Need Commercial Flooring Services or Products in or Near Charlotte, NC?
Contact Us Today!
Looking for professional commercial roofing services in Charlotte, NC? Our dedicated team is ready to assist you with all your roofing needs. Simply fill out the form below, and we'll promptly get back to you, providing the reliable solutions you're looking for!