Commercial & Industrial Roofing Services for Chicago, IL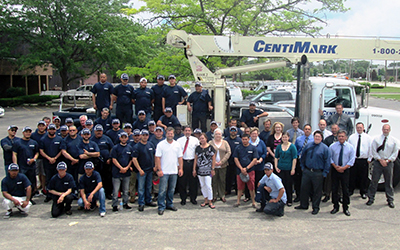 National Commercial & Industrial Roofing Contractor
As a top commercial roofing contractor serving Chicago, CentiMark is dedicated to providing the highest level of products and services. CentiMark is a nationwide roofing company with locations spread across the United States. This particular office is located in Elgin and services Chicago, Dupage County and surrounding areas throughout Illinois including Rockford.
The CentiMark roofing team serving Chicago is very experienced so you know your commercial roofing project is in good hands. The branch manager has been working for CentiMark for over thirty years and numerous foreman have over 20 years with the company. The service manager has also been in roofing for over twenty five years. In addition, the combined experience of the project managers and service sales is over one hundred years!
The Chicago area CentiMark also has its own cranes, dump boxes and flatbed semi trailers for deliveries, This helps the roofing team stay on schedule because they don't have to rely on vendors. CentiMark in Chicago also has its own fleet of service vans meaning it can provide fast, reliable service to any business in the state or beyond.

Commercial Roofing Systems
In order to effectively recommend a roofing system, CentiMark performs a comprehensive roof evaluation. Once this is complete, a highly-skilled crew will suggest the best solutions for the customer's needs. The following types of roof systems are offered as first time installations or roof replacements: TPO, PVC, EPDM (rubber roofing), Spray Polyurethane Foam (SPF), Modified Bitumen, Built-up Roofing, Roof Coatings, Metal, Steep Slope and more.
If looking for sustainable green roofing options, CentiMark offers a variety of environmentally friendly roofing solutions. Being earth friendly is not simply a trend. More commercial customers are asking about these options. CentiMark offers daylighting, energy-efficient roofing using Photovoltaic (PV) solar panels, garden roofing, cool roofs and other ecologically-sound commercial and industrial roofing options. Many of these options may also contribute to earning LEED points so be sure to inquire about that if interested.

Chicago Roofing Contractor Services
CentiMark also provides an extensive array of other roof services in addition to the installation of roofing systems. These include preventative maintenance, roof cleaning, emergency roof repairs, storm damage repairs, snow removal, roof leak repairs, roof evaluation services and other related services.

The CentiMark Difference:
Experienced CentiMark crews install CentiMark roofs that are of the highest quality workmanship.
Each of the jobs this Chicago roofing contractor undertakes has safety procedures as well as a safety plan in place. These will be provided to the customer for their reference.
As a Chicago commercial roofing contractor, CentiMark offers a Single Source Roofing Warranty that covers both workmanship and materials. Our warranty can also be customized for your specific needs.
CentiMark maintains a list of references that are organized by industry, roof type and roof size.
Both emergency repairs and warranty work are completed by crews dedicated only to those services at CentiMark.
Innovative tools enable CentiMark customers to tap into preventative maintenance programs. Online roof management tools also provide ease of use for customers to stay on top of their projects.
Need Commercial Flooring Services or Products in Chicago, IL?
Contact Us Today!
Looking for professional commercial roofing services in the Chicago area? Our dedicated team is ready to assist you with all your roofing needs. Simply fill out the form below, and we'll promptly get back to you, providing the reliable solutions you're looking for!