Commercial & Industrial Roofing Services for Des Moines, IA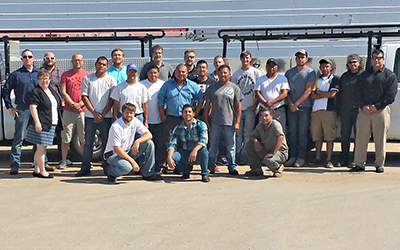 National Commercial & Industrial Roofing
CentiMark is a nationwide commercial roofing company with locations throughout the United States. This CentiMark office is located in Grimes, Iowa and services the city of Des Moines as well as Eastern Iowa. Working from this Des Moines area CentiMark office are 2 service and 2 production crews.

Des Moines Roofing Contractor Services
CentiMark offers an array of diverse commercial roofing services that are designed to meet the needs of your business. CentiMark provides services including emergency roof repairs, preventative maintenance, storm damage repairs, snow removal, roof evaluation services, roof cleaning and more.

Commercial Roofing Systems
Once you contact CentiMark for a roofing evaluation, CentiMark's knowledgeable crews will thoroughly evaluate your needs before recommending the best CentiMark industrial and commercial roofing system. CentiMark offers roofing options such as BUR (Built-Up Roof Membranes), EPDM (Ethylene Propylene Diene Monomer) rubber roofing, SPF (Spray Polyurethane Foam), TPO (Thermoplastic Polyolefin), PVC (Polyvinyl Chloride), Mod-Bit (Modified Bitumen), Roof Coatings, Metal Roofs, Steep Slope Roofing and more.

Eco-Friendly Roofing Choices
If your Des Moines business is one of the increasing number of companies turning to eco-friendly roofing options, CentiMark provides several "green" choices.CentiMark's environmentally friendly roofing solutions include cool roofs, Photovoltaic (PV) solar panels, , daylighting through prismatic skylights and garden roofs. CentiMark's green roofing options may also contribute to LEED points so if looking to earn points, be sure to ask your CentiMark project manager.

The CentiMark Difference
CentiMark's commercial roofing crews provide an expansive roster of roofing services for your Des Moines area business.
Safety is an important concern at CentiMark. A comprehensive safety plan that details the proper procedural expectations will be communicated to you prior to any work starting.
CentiMark stands behind the workmanship and the materials used by providing a Single Source Warranty to you. This warranty can be customized, transferred, or extended to meet your unique needs.
CentiMark's references are available for your view upon request. They are sorted according to roof size, roof type and industry.
At CentiMark, emergency repairs and warranty work receive priority attention and dedicated crews to handle these projects 24/7.
Online roof management and roof evaluation tools are provided by CentiMark to streamline these crucial jobs for our Des Moines customers.
Need Commercial Flooring Services or Products in Des Moines, Iowa?
Contact Us Today!
Looking for professional commercial roofing services in Des Moines area? Our dedicated team is ready to assist you with all your roofing needs. Simply fill out the form below, and we'll promptly get back to you, providing the reliable solutions you're looking for!