Commercial Roofing Company Serving Fort Lauderdale, FL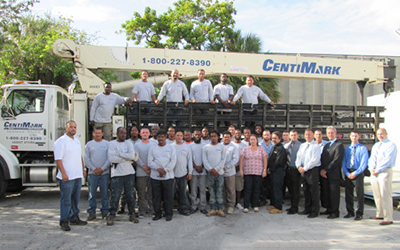 National Commercial & Industrial Roofing Contractor
CentiMark is a nationwide commercial roofing company with offices located throughout the United States. This CentiMark office located in Pompano Beach, offers superior roofing services to businesses in the Fort Lauderdale area and beyond! This commercial roofing office services surrounding cities including but not limited to Boca Raton, Miami, Naples and West Palm Beach.

Industrial and Commercial Roofing Systems
Once you contact CentiMark with a commercial roofing inquiry, experienced crews will head to your location to evaluate your roof and provide expert roof recommendations. If a commercial reroof is recommended, there are many different roof system options available including: Roof Coatings, Spray Polyurethane Foam (SPF), Built-up Roofing (BUR), EPDM (rubber roofing), Polyvinyl Chloride (PVC), Steep Slope, Thermoplastic Polyolefin (TPO), Modified Bitumen (Mod-Bit), Metal Roofing and more.

If looking for environmentally friendly reroofing options, CentiMark can assist! CentiMark offers a variety of green roofing options that can help your business be more green. Green roof systems offered by CentiMark include: daylighting through the use of prismatic skylights or light tubes, Photovoltaic (PV) solar panels designed to produce electricity from exposure to the sun's radiant energy, cool roofs to reflect the sun's radiant heat to keep buildings cool and garden roofs that incorporate vegetation onto your roof's surface. CentiMark's green roofing options can even help you earn LEED points so if that is something of interest, be sure to inquire about that with your CentiMark appointed project manager.

Roofing Contractor Services in Ft. Lauderdale, FL
CentiMark serving Ft. Lauderdale offers reputable roofing services for your business. You can expect the experts to help you with service offerings such as maintaining your roof, regular and emergency roof repairs, roof cleaning, asset management and other roofing services.

The CentiMark Difference
CentiMark roofing in Fort Lauderdale, FL can deliver quality roofing to all your businesses. If you have commercial or industrial roofing that needs to be taken care of, they can provide a roofing solution via an evaluation that will tell you exactly what you need. This will be done before any roofing system is implemented.
CentiMark takes safety seriously. You will be presented a safety plan with the procedures that will be used before any commercial roofing work is started.
The Single Source Warranty CentiMark offers can be extended, transferred and customized if necessary.
In order to effectively compare your options, you need to have access to CentiMark's references. Roofing references are grouped by roofing type, industry, and the size of the roof.
CentiMark has specific teams available to discuss any emergency repairs or warranty work that you have.
Effectively managing your roof means having the correct tools available. CentiMark offers online tools for managing your roofing project and roof evaluations.
Need Commercial Flooring Services or Products in Fort Lauderdale, Florida?
Contact Us Today!
Looking for professional commercial roofing services in the Fort Lauderdale, FL area? Our dedicated team is ready to assist you with all your roofing needs. Simply fill out the form below, and we'll promptly get back to you, providing the reliable solutions you're looking for!