Commercial & Industrial Roofing Services for Jeffersonville, IN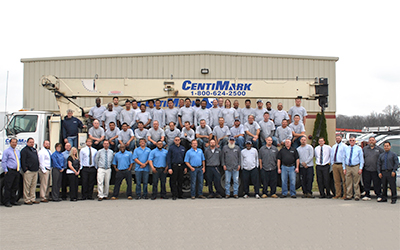 National Commercial & Industrial Roofing
CentiMark is a nationwide commercial roofing company with locations scattered across the country so that every area of the US is served. This particular commercial roofing office services Louisville, KY and beyond including areas of both Indiana (Evansville) and Kentucky.

This office is physically located in Jeffersonville, IN but provides roofing services to the surrounding areas in Southern Indiana including Evansville, Clarksville and New Albany. CentiMark's commercial roofing contractors at this location also service areas of Kentucky including but not limited to Elizabethtown, Frankfort, Hopkinsville, Lexington, Louisville, London, Owensboro, Paducah and Somerset. If you are located in or near any of the areas listed above and are interested in obtaining commercial roofing services, contact your local CentiMark in Indiana today!

Commercial Roofing Systems
As a Louisville, KY area roofing contractor, CentiMark is proud to offer innovative commercial roofing systems such as Built-up Roofing (BUR), Modified Bitumen (Mod-Bit), Spray Polyurethane Foam (SPF), Ethylene Propylene Diene Monomer (EPDM - rubber roofing), Polyvinyl Chloride (PVC), Thermoplastic Polyolefin (TPO), Metal Roofs, Steep Roofs and various types of Roof Coatings.

If looking for eco-friendly commercial roofing solutions in Indiana or Kentucky, CentiMark offers numerous options including daylighting, garden roofing, cool roofs, photovoltaic (PV) solar panels, and more! CentiMark's green roofing options may also contribute to earning LEED points. If interested, be sure to ask your project manager what options are available that contribute to LEED points.

Before CentiMark recommends one of the industrial or commercial roofing options mentioned above, CentiMark's roofing experts will conduct a roofing inspection and thoroughly evaluate your needs.

IN & KY Roofing Contractor Services
In addition to offering commercial reroofing services where CentiMark installs an entirely new roofing system, CentiMark provides a variety of other commercial roofing services. These services include preventative maintenance, roof repairs (small and large), roof cleaning as well as ice and snow removal services.


The CentiMark Difference:
CentiMark delivers Louisville area businesses like yours, with innovative industrial and commercial roofing solutions you need.
CentiMark, as a Louisville KY roofing contractor, takes safety very seriously. You'll be presented with a project plan and applicable safety procedures before the job is started.
CentiMark offers a Single Source warranty, which can be transferable, extended, and customized.
In order for you to effectively compare your commercial roofing options, CentiMark keeps its references filed according to roof size, industry, and type.
CentiMark knows how important warranty work and emergency repairs are to your business, so CentiMark has specific teams on staff to address these issues.
Being able to efficiently manage your roof begins with unique online tools such as those offered by CentiMark for roof evaluations and roof management.
Need Commercial Flooring Services or Products in Indiana?
Contact Us Today!
Looking for professional commercial roofing services in the Jeffersonville, IN area? Our dedicated team is ready to assist you with all your roofing needs. Simply fill out the form below, and we'll promptly get back to you, providing the reliable solutions you're looking for!