Commercial Roofing Services in Milwaukee, WI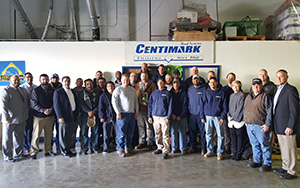 National Commercial Roofing Company
As a leading commercial roofing contractor in Milwaukee, WI CentiMark provides specialized solutions that are focused on customer needs and value. CentiMark is a nationwide commercial roofing company with offices located throughout the US. This office located in Milwaukee, WI services the entire state with popular service areas including (but not limited to) Appleton, Fox Valley, Green Bay, Kenosha, Madison, Milwaukee, Oshkosh, Racine and Waukesha.
CentiMark provides Wisconsin based clients with recommendations based on evaluations from our experienced roofing crews. Roofing options include PVC, TPO, Spray Polyurethane Foam (SPF), Modified Bitumen, Built-up Roofing System, Steep Slope, Metal, Roof Coatings, and more.

Milwaukee Roofing Contractor Services
CentiMark's roofing contractors are all employees of the CentiMark Corporation and most have been with the company for numerous years. CentiMark is proud of the fact that it is a family-owned business with a high employee retention rate.

In addition to CentiMark's commercial and industrial reroofing options, CentiMark offers a variety of additional roofing services including emergency roof repairs, preventive maintenance, asset management, storm damage repairs, roof cleaning, roof snow removal and more!

Green Roofing Options
CentiMark believes in preserving the environment. To assist Milwaukee and Wisconsin based customers in going green and reducing energy consumption, CentiMark offers a variety of green roofing options including cool roofs, LEED, energy-efficient roofing, garden roofing, daylighting, and more.

The CentiMark Difference
CentiMark's Milwaukee based commercial roofing crews are knowledgeable and experienced, recommending and installing the specific CentiMark roofing system that meets the unique needs of each customer.
CentiMark's open communication ensures that everyone is knowledgeable about the safety procedures and targeted plan of action.
The CentiMark Single Source Warranty covers materials and workmanship, and is easily customized, extended, and transferred.
CentiMark maintains detailed references organized by roof size, type, and industry.
Experienced and well trained Milwaukee based commercial roofing crews are ready to perform emergency roof repairs and warranty work.
Customers have access to innovative, online programs and tools for roof evaluations and roof management.
Need Commercial Flooring Services or Products in Milwaukee,WI?
Contact Us Today!
Looking for professional commercial roofing services in the Milwaukee area? Our dedicated team is ready to assist you with all your roofing needs. Simply fill out the form below, and we'll promptly get back to you, providing the reliable solutions you're looking for!