Commercial Roofing Solutions for Orlando, FL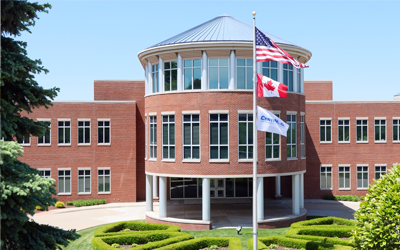 National Commercial & Industrial Roofing
CentiMark delivers the finest in commercial and industrial roofing services to Orlando area businesses. CentiMark is a nationwide roofing company with offices located throughout the United States. This particular office located outside Orlando provides commercial roofing services to Central Florida including the eastern coastline. Service areas include but are not limited to the cities of Clermont, Daytona, Kissimmee, Melbourne, Orlando, Sanford, Titusville and Vero Beach.

Commercial Roofing Systems
As the leader in commercial and industrial roofing in Orlando, CentiMark takes pride in offering forward-thinking roofing systems such as Modified Bitumen (Mod-Bit), Polyvinyl Chloride (PVC), Built-Up Roofing, Spray Polyurethane Foam (SPF), Thermoplastic Polyolefin (TPO), EPDM (rubber roofing), Metal Roofs as well as other options.
If looking for sustainable green roofing options, CentiMark also offers a variety of environmentally friendly roofing systems all of which help reduce utility bills while positively impacting the environment. Green roofing options include Photovoltaic (PV) solar panels, cool roofs, garden roofs and daylighting through prismatic skylights or light tubes.

Orlando Area Roofing Contractor Services
In addition to commercial reroofing, CentiMark provides a complete array of supportive services for your business's roof such as preventative maintenance, asset management, roof safety equipment installation, roof cleaning, storm damage repair and more. CentiMark's experienced commercial roofing crews are ready to inspect, repair or service your roof in order to prolong the life of your roofing investment.

The CentiMark Difference
CentiMark is proud to be a premier Orlando commercial roofing contractor. Located in Central Florida, CentiMark employs experienced crew members that will work with you to determine the ideal CentiMark roofing system to meet your needs.
Before your roofing project is started, CentiMark presents you with a safety plan that contains a targeted plan of action.
CentiMark issues a flexible Single Source Warranty, which is transferable, customizable and extendable. The warranty covers materials and workmanship.
In addition, the Orlando commercial roofing team maintains references that are tailored to distinct specifications such as roof size, type, and industry.
In offering emergency roofing solutions, prompt attention is given to those businesses that need emergency roof repair or warranty work by CentiMark's specialized crews.
CentiMark's innovative customer tools allow you to streamline the management of your business's roof by utilizing CentiMark's convenient online tools for roof management and roof evaluation services.
Need Commercial Flooring Services or Products in Orlando, FL?
Contact Us Today!
Looking for professional commercial roofing services in the Orlando area? Our dedicated team is ready to assist you with all your roofing needs. Simply fill out the form below, and we'll promptly get back to you, providing the reliable solutions you're looking for!