Commercial Roofing Services for Pensacola, FL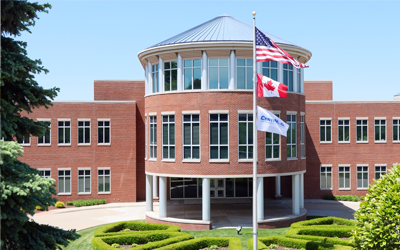 National Commercial & Industrial Roofing
CentiMark provides businesses with every solution needed to maintain commercial roofing systems.
CentiMark is a nationwide commercial roofing company with offices located throughout the United States. This office, which is located just outside of Pensacola, services areas of Florida, Alabama and Mississippi. Popular service areas within these states include the cities of Pensacola and Panama City in Florida, Dothan, Enterprise and Mobile in Alabama and Gulfport, Hattiesburg and Pascagoula in Mississippi.

Industrial and Commercial Roofing Systems
Once you contact CentiMark to inquire about our roofing systems, our experienced team will schedule a time to inspect and conduct an evaluation to provide the best roofing recommendations. Commercial roofing systems offered by CentiMark include various industrial and commercial roofing options such as Built-Up Roofing, EPDM (rubber roofing), Spray Polyurethane Foam (SPF), Modified Bitumen, Steep Slope, Metal, TPO and Roof Coatings.
If your Pensacola business is considering going green and becoming eco-friendly, CentiMark can help with that transition. CentiMark offers a variety of green roofing options including Daylighting, Cool Roofs, Garden Roofs, and roofs that are energy-efficient due to the use of Photovoltaic (PV) Solar Panels. Green roofing options are a great way to save on utility expenses.

Roofing Contractor Services in Pensacola & Beyond
CentiMark takes pride in taking care of your roof. With everything from emergency roof repairs (due to leaks, hurricanes or severe weather) and roof cleaning to asset management and preventative roof measures, we are here to serve you.

The CentiMark Difference
When looking for industrial and commercial roofing solutions, CentiMark delivers quality work to businesses in Pensacola as well as other areas of Florida, Alabama and Mississippi. Before recommending a roofing system, a team of expert roofers provides you a full evaluation, so you know exactly what you need.
CentiMark's commercial roofing contractors in Pensacola take roofing safety extremely seriously. A targeted action plan is always in place, and you will be presented with the applicable safety procedures before any roofing job begins.
The CentiMark warranty is a Single Source Roof Warranty and can be customized to meet your specific needs.
CentiMark has commercial roofing references available so that you can compare options. The files are sorted according to the type of roof, the size, and industry.
Knowing how important warranties and emergency repairs are for your company, CentiMark provides teams that are available to handle emergency roof repairs and warranty work.
Managing your roof efficiently means that you need the right online tools. CentiMark offers customers the option to manage roofing projects, as well as service and maintenance programs.
Need Commercial Flooring Services or Products in Pensacola?
Contact Us Today!
Looking for professional commercial roofing services in Pensacola area? Our dedicated team is ready to assist you with all your roofing needs. Simply fill out the form below, and we'll promptly get back to you, providing the reliable solutions you're looking for!