Commercial & Industrial Roofing Solutions in Portland, OR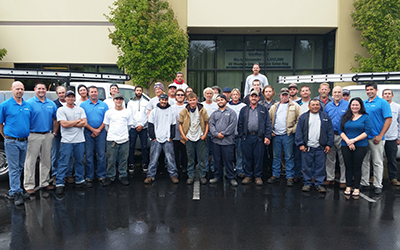 National Commercial & Industrial Roofing Contractor
CentiMark is a nationwide commercial roofing company with offices located throughout the US. This particular CentiMark office specializes in providing Portland area businesses long term commercial and industrial roofing solutions focused on the benefits, value and peace of mind they need.
This CentiMark office provides commercial roofing services to businesses in Oregon and Washington. Popular service areas include but are not limited to Beaverton, Bend, Eugene, Hillsboro, Hood River, Medford, Portland and Salem in Oregon as well as Vancouver, WA.
The Portland based CentiMark office has about 50 employees. This office also has a full metal department that can fabricate and install all sorts of metal coping, counter flashing and metal roofs.

Commercial and Industrial Roofing
CentiMark's highly-trained commercial roofing contractors in Portland assess your building's condition and needs in order to recommend the best commercial or industrial roofing system. Available roofing options include: Modified Bitumen, TPO, PVC, EPDM (rubber roofing), Roof Coatings, Metal, Steep Slope, Built-up Roofing System, Spray Polyurethane Foam (SPF) and more.

Portland Green Roofing:
CentiMark offers leading energy efficient green roofing solutions for your Portland area business. Options include garden roofing, cool roofs, daylighting, photovoltaics,and more. CentiMark's environmentally friendly roofing options can also help you earn LEED points so if that is something you are interested in, be sure to inquire about the options available.

Portland Roofing Contractor Services
Has your commercial roofing system been damaged from a storm? Weather related roofing solutions are available from CentiMark as our contractors provide storm damage repairs and emergency roof repairs. CentiMark also provides a variety of additional services including preventive maintenance, roof cleaning, snow removal, gutters and downspout replacement, asset management and other services that provide value and help extend the life of your roof.


The CentiMark Difference
As the premier commercial roofing contractor in Portland, OR, CentiMark crews are here for you. Keeping your needs and budget in mind, CentiMark will recommend the right roof for your building.
At CentiMark, safety procedures and plans are always in place for every roofing job. Plus, we'll develop a comprehensive safety plan with a targeted plan of action to review with you.
Our Portland commercial roofers provide a Single Source warranty covering workmanship and materials. The warranty can be customized to fit your needs, extended or transferable.
CentiMark is proud of its workmanship. Commercial roofing references are available by roof size, type or industry.
CentiMark provides dedicated crews that specialize in emergency repairs and warranty work for your commercial roof in Portland and the surrounding vicinity.
Be sure to take advantage of CentiMark's roof evaluation programs and online roof management tools.
Need Commercial Flooring Services or Products in Portland, OR?
Contact Us Today!
Looking for professional commercial roofing services in Portland, OR area? Our dedicated team is ready to assist you with all your roofing needs. Simply fill out the form below, and we'll promptly get back to you, providing the reliable solutions you're looking for!