Commercial Roofing Solutions for Raleigh, NC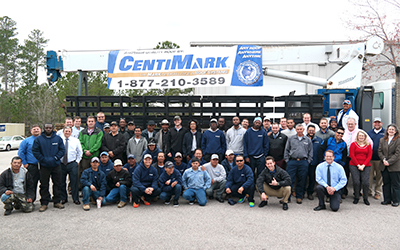 National Commercial & Industrial Roofing Contractor
CentiMark is a nationwide commercial roofing company with locations throughout the United States. This CentiMark office is located outside Raleigh, NC in Apex and services areas of both North Carolina and Virginia. This particular office is home to some of the longest tenured CentiMark crew members and installers. This Raleigh area office is also a three time CentiMark Branch of the Year award winner and home to CentiMark's NRCA MVP Award Winner.
Popular service areas serviced by this office include but are not limited to Clinton, Durham, Fayetteville, Goldsboro, Greensboro, Greenville, High Point, Jacksonville, Kingston, Morehead City, New Bern, Raleigh, Rocky Mount, Wilmington and Wilson, NC. In Virginia, frequently serviced areas include Blacksburg, Danville, Lynchburg, Martinsville, Roanoke and Salem. If located in or near one of these locations and you find yourself in need of commercial roofing services, contact CentiMark today!

Commercial Roofing Systems
CentiMark specializes in providing Raleigh area businesses with industrial and commercial roofing solutions required to provide the longevity and value you desire. Once you contact CentiMark, our highly-trained roofing professionals will conduct a roofing evaluation that may include drone inspections and thermal imaging to assess your business' needs thoroughly before recommending a roofing system.
CentiMark offers a variety of major roof systems, which are all installed by experienced crews and backed by CentiMark's Single Source Warranty. Commercial roofing systems provided by CentiMark include TPO, PVC, EPDM, SPF, Mod-Bit, BUR, Metal, Steep Slope along with numerous types of roof coatings.If interested in exploring more about CentiMark's roofing options, visit our page dedicated to our commercial roof systems.

Raleigh Green Roofing
CentiMark offers cutting-edge and energy efficient green roofing options for your Raleigh area business including garden roofing, cool roofs, daylighting and photovoltaic (PV) solar panels. CentiMark's green roofing options can also assist with earning LEED points. If interested, be sure to ask your CentiMark appointed project manager what options are available that may contribute to LEED points.


Industrial and Commercial Roofing Services
CentiMark doesn't just install top-quality roofing systems, they also offer related services. These include emergency roof repairs, roof cleaning, preventative maintenance, asset management, storm damage repairs and more.

The CentiMark Difference:
As a Raleigh area commercial roofing contractor, CentiMark strives to meet the needs of your business. Dedicated crews extend professional recommendations to you concerning the ideal CentiMark roof for your business.
CentiMark makes the safety of all concerned a top priority. To accomplish this objective, CentiMark develops a comprehensive safety plan with a project plan and shares it with you.
CentiMark is proud of its workmanship, materials, and roofing systems. CentiMark offers a Single Source roof warranty that is transferable, extendable, and customizable.
In order to facilitate reference checks, CentiMark maintains a file of references according to industry, roof type and roof size.
Warranty work and emergency roof repairs are crucial for keeping your business up and running. CentiMark provides specialized crews for these time-sensitive issues.
You can take advantage of online service tools that are designed to make your life easier. CentiMark provides roof evaluation programs and online roof management.
Need Commercial Flooring Services or Products in Raleigh, NC?
Contact Us Today!
Looking for professional commercial roofing services in the Raleigh, NC area? Our dedicated team is ready to assist you with all your roofing needs. Simply fill out the form below, and we'll promptly get back to you, providing the reliable solutions you're looking for!