Commercial Roofing Services for Hartford, CT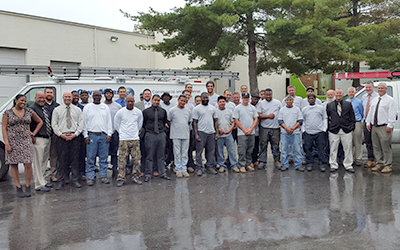 Connecticut Commercial Roofing Contractors
As an industrial and commercial roofing company serving Hartford, CT and beyond, CentiMark delivers targeted solutions that provide value and performance that you count on for your business.

Before CentiMark's experienced roofing contractors recommend a particular roofing system, they carefully evaluate your needs. Some of the systems they offer include TPO, EPDM (rubber roofing), PVC, Spray Polyurethane Foam (SPF), Built-up Roofing, Modified Bitumen and more.

Hartford Roofing Services
CentiMark offers extensive support services for all of your industrial and commercial roofing needs. These roofing services include emergency roof repairs, storm damage repairs, preventative maintenance, asset management, snow removal and more.

Green Roofing Options
CentiMark provides cutting-edge green roofing options including daylighting, LEED, garden roofs, cool roofs and other energy-efficient roofing options.

The CentiMark Difference:
The CentiMark roofing office serving Hartford, CT and beyond has experienced teams on staff who have an array of expertise and knowledge. CentiMark roofing contractors thoroughly evaluate the roofing needs of your business prior to delivering any recommendations.
Safety is CentiMark's number one concern! Before your roofing project begins, you'll be presented with a safety and targeted action plan.
CentiMark stands behind its workmanship and roofing systems in Connecticut by offering a single source warranty with options to customize, transfer, and extend the warranty.
CentiMark's references are sorted according to roofing type, industry, and roofing system to facilitate their ease of use for you. Because emergency roof repairs and warranty work are so critical to your daily work flow, CentiMark maintains dedicated teams for these projects.
You can efficiently manage your roofing projects by using CentiMark's online tools for roof evaluations and roof management.
Need Commercial Flooring Services or Products in or around Hartford, CT?
Contact Us Today!
Looking for professional commercial roofing services in the Rocky Hill area? Our dedicated team is ready to assist you with all your roofing needs. Simply fill out the form below, and we'll promptly get back to you, providing the reliable solutions you're looking for!