Commercial Roofing Services for Sacramento, CA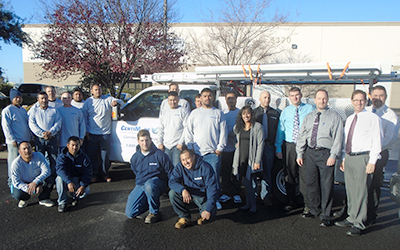 Commercial & Industrial Roofing
CentiMark is a commercial roofing company in the Sacramento area with demonstrated expertise. CentiMark offers industry-specific industrial and commercial roofing services that provide customers with the value, design and benefits they expect.

This CentiMark office is located in Roseville, CA but services many surrounding areas in both California and Nevada. Popular service areas for this location include Fresno, Medera, Merced, Sacramento, San Joaquin, Stanislaus and Tulare county in California as well as the city of South Lake Tahoe. Popular service areas also include Carson City and Reno in Nevada.
At CentiMark's Sacramento area office, there are five full service industrial and commercial roofing teams along with three production crews. As a result, this office is able to fulfill all reroofing and service requests. This office specializes in all commercial roofing systems and services ranging from snow removal to roof maintenance and repairs. No job is too big or too small.

Sacramento Roofing Contractor Services
The first step CentiMark takes when working with a customer is evaluating their needs. CentiMark's experienced commercial roofing contractors then recommend a roofing system that fits those needs whether it be a Modified Bitumen, Built-up, Spray Polyurethane Foam (SPF), EPDM (rubber roofing), TPO, PVC, Roof Coating, Metal, Steep Slope or any other type of system.
If not looking for a full commercial roof replacement, CentiMark offers a variety of other roofing services and programs. CentiMark's roofing team provides services such as commercial roof repairs, emergency repair response and has programs for preventative maintenance, asset alert and management as well as portfolio management. Visit CentiMark's roof services and programs page to learn more about how CentiMark's experienced crews are ready to inspect, repair and service your roof!

Green Roofing Options
Are you searching for environmentally friendly commercial roofing solutions? If so, CentiMark has a variety of green roofing options available for you! LEED, daylighting, garden roofing, cool roofs and energy-efficient roofing are just a few of the green roofing options that CentiMark offers its customers in the Sacramento area and beyond.

The CentiMark Difference:
Crews that are specially trained by CentiMark, a Sacramento area commercial roofing contractor, install high-quality CentiMark roofing products designed to meet the customer's specific needs.
CentiMark takes the safety of its crew and customers very seriously so everyone involved is informed of their safety procedures and the exact plan of action to be undertaken.
CentiMark offers a Single Source Roofing Warranty designed to meet customers' needs. This warranty can be extended, transferred and customized to fit your needs.
Industry-specific references, as well as those pertaining to the roof type and size, are maintained by this Sacramento area roofing contractor.
CentiMark has crews that specialize in warranty work and emergency roof repairs and are ready to meet their clients' urgent needs.
Online roof management and preventative maintenance is a couple of the innovative programs and tools CentiMark provides for its customers.
Need Commercial Flooring Services or Products in Sacramento, California?
Contact Us Today!
Looking for professional commercial roofing services in the Sacramento area? Our dedicated team is ready to assist you with all your roofing needs. Simply fill out the form below, and we'll promptly get back to you, providing the reliable solutions you're looking for!