Commercial & Industrial Roofing Services for Seattle, WA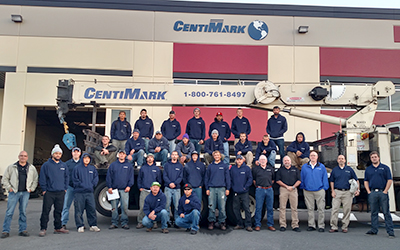 National Commercial & Industrial Roofing
CentiMark roofing in Seattle focuses on delivering a specialized range of commercial roofing systems and related solutions to Seattle area customers. CentiMark's roofing solutions have all been developed with an eye for design, value and other properties that are important to you.
CentiMark is a nationwide commercial roofing company with offices throughout the United States. This office is located right outside of Seattle, WA and has five crews that service the surrounding areas. Popular service areas for this location include but are not limited to the cities of Auburn, Bellevue, Bellingham, Bothell, Burlington, Centralia, Everett, Federal Way, Issaquah, Kent, Kirkland, Lynnwood, Marysville, Olympia, Puyallup, Redmond, SeaTac, Seattle, Sumner, Tacoma, Tukwila, Wenatchee and Yakima.

Commercial and Industrial Roofing Systems
Prior to recommending any commercial roofing system, CentiMark performs a comprehensive evaluation of your needs and circumstances. CentiMark roofing experts then offer recommendations on the best roofing system for your needs. Some re-roofing options include EPDM (rubber roofing), PVC, Built-up Roofing, TPO, Spray Polyurethane Foam (SPF), Metal, Steep Slope, Roof Coatings, Modified Bitumen and more.
As a leader of the green roofing industry in Seattle, CentiMark offers options such as Garden Roofing, Daylighting, Cool Roofs and other energy-efficient roofing such as Photovoltaic (PV) Systems. Many of CentiMark's environmentally friendly roofing solutions can also help you earn LEED points so if interested, please be sure to inquire about that with your CentiMark appointed project manager.

Seattle Roofing Contractor Services
CentiMark also provides emergency roof repairs, preventative maintenance, storm damage repairs, leak call service, roof cleaning, snow removal and additional roofing services for all Seattle area customers.

The CentiMark Difference:
CentiMark utilizes the expertise of their knowledgeable crews to provide customers in Seattle and surrounding areas with recommendations for the industrial and commercial roofing system that best meets their needs.
As a roofing contractor in Seattle, CentiMark provides you with an extensive targeted safety plan, as well as any applicable procedures, before any work commences.
In order to accommodate an array of situations, CentiMark offers an extended, single source, customized and transferable roof warranty option.
Upon your request, CentiMark is happy to provide references specific to roof type, roof size, and industry.
Emergency roof repairs and warranty work are handled by CentiMark's local Seattle roofing crews.
CentiMark offers unique online tools that are designed to streamline your services. These include roof evaluation programs and online roof management
Need Commercial Flooring Services or Products in Seattle, WA?
Contact Us Today!
Looking for professional commercial roofing services in Seattle area? Our dedicated team is ready to assist you with all your roofing needs. Simply fill out the form below, and we'll promptly get back to you, providing the reliable solutions you're looking for!