Commercial & Industrial Roofing Services for St. Louis, MO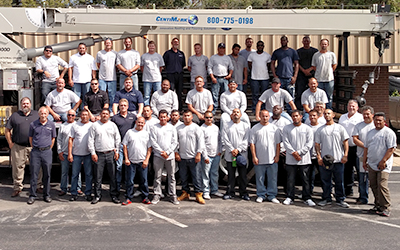 National Commercial & Industrial Roofing
CentiMark provides specialized roofing solutions that are focused on offering customers the benefits and value they need. CentiMark is a commercial roofing company that services the entire country with locations spread across the United States. This CentiMark office in Hazelwood, MO services St. Louis and Madison County in Missouri as well as St. Clair County in Illinois. Popular service areas within these areas include but are not limited to the cities of Chesterfield, Columbia and St. Louis.

Commercial and Industrial Roofing Systems in St. Louis
CentiMark, a premier St. Louis commercial roofing contractor, evaluates customer needs prior to recommending a roofing system. Available roofing solutions include Polyvinyl Chloride (PVC), Thermoplastic Polyolefin (TPO), Modified Bitumen (Mod-Bit), Built-up Roofing (BUR), Spray Polyurethane Foam (SPF), Ethylene Propylene Diene Monomer (EPDM), Metal, Steep Slope, Roof Coatings and more.
If searching for environmentally friendly commercial roofing solutions, CentiMark offers a variety of green roofing options. CentiMark's green roofing systems are designed to help customers in St. Louis lower utility bills and reduce energy usage. Green roofing options include daylighting, cool roofs, garden roofs and energy-efficient photovoltaic roofing systems. Also note that if you are looking to earn LEED points with your roofing project, CentiMark's green roofing options may contribute to that.

St. Louis Roofing Contractor Services
In addition to roofing systems, CentiMark offers a variety of commercial roofing services including emergency roof repairs, storm damage repairs, roof cleaning, asset management and preventive maintenance to help extend the life of your roofing system.

The CentiMark Difference
At CentiMark, highly-trained, skilled crews are employed to evaluate, recommend and install the best commercial roofing system to meet the needs of all customers.
Open lines of communication ensure everyone is knowledgeable about the safety procedures and targeted plan of action prior to any roofing work.
CentiMark offers clients a Single Source Roof Warranty that covers materials and workmanship. Warranties can be customized, extended, and transferred.
CentiMark maintains references specific to roof size, type, and industry.
CentiMark's experienced St. Louis roofing crews are prepared to perform emergency roof repairs and warranty work.
Innovative online commercial roof management tools and programs are centered around roof evaluation services and management of roofing projects
Need Commercial Flooring Services or Products in St. Louis, MO?
Contact Us Today!
Looking for professional commercial roofing services in St. Louis area? Our dedicated team is ready to assist you with all your roofing needs. Simply fill out the form below, and we'll promptly get back to you, providing the reliable solutions you're looking for!