Commercial Roofing Company for Tampa, FL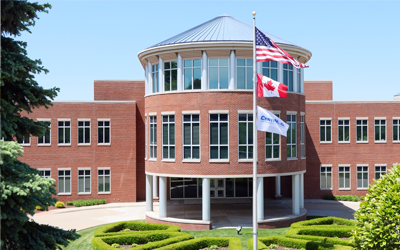 National Commercial & Industrial Roofing
CentiMark is the premier roofing contractor in the Tampa area and provides an expansive roster of solutions designed to meet the needs of commercial and industrial customers in regards to features, benefits and value. CentiMark is a nationwide commercial roofing company with offices located throughout the US. This office is located outside of Tampa in Lakeland and handles roofing services throughout Central and Western Florida including the Western Coastline. Commercial roofing services are provided but not limited to the cities of Bradenton, Clearwater, Fort Myers, Lakeland, Naples, Ocala, Palm Coast, Sarasota, St. Petersburg and Tampa.

Industrial and Commercial Roofing Systems
CentiMark begins each project with a planning phase that involves a thorough roofing assessment and receiving recommendations from our experienced crews. Commercial roofing systems offered by CentiMark include Thermoplastic Polyolefin (TPO), Ethylene Propylene Diene Monomer (EPDM - rubber roofing), Built-up Roofing (BUR), Spray Polyurethane Foam (SPF), Modified Bitumen (Mod-Bit), Polyvinyl Chloride (PVC), Roof Coatings, Metal Roofing, Steep Slope Roof Systems and more.

CentiMark also provides Tampa area commercial businesses with green roofing options including daylighting, cool roofs, garden roofing and photovoltaic solar panels. CentiMark also has options that contribute to LEED points so if interested, be sure to ask your CentiMark appointed project manager about available options.

Tampa Roofing Contractor Services
CentiMark delivers specialized commercial roofing services such as roof cleaning, roof penetration installation, roof safety equipment installation, emergency roof repairs, preventative maintenance, storm damage repair and others to meet customers' needs.


The CentiMark Difference:
CentiMark is the industry leader in industrial and commercial roofing in Tampa, FL. Our highly-skilled crews expertly install CentiMark roofing systems to the company's standards.
Safety is CentiMark's primary concern. This is why they always follow a safety plan and planned procedures that they share with each of their customers for every roofing project.
CentiMark stands firmly behind its products and workmanship by offering a Single Source Warranty that can be customized, transferable, and extended to fit the specific needs of the customer.
As a Tampa area commercial roofing contractor, CentiMark maintains an extensive list of references that are sorted according to roof size, type and industry.
Urgent situations, such as emergency repairs and warranty work, are handled by CentiMark's local Lakeland roofing crews who handle them promptly.
Innovative tools, such as roof evaluation programs and online roof management, are provided by your local CentiMark roofing serving Tampa, FL.
Need Commercial Flooring Services or Products in Tampa, FL?
Contact Us Today!
Looking for professional commercial roofing services in the Tampla, FL area? Our dedicated team is ready to assist you with all your roofing needs. Simply fill out the form below, and we'll promptly get back to you, providing the reliable solutions you're looking for!