Commercial Roofing Services in Wichita, KS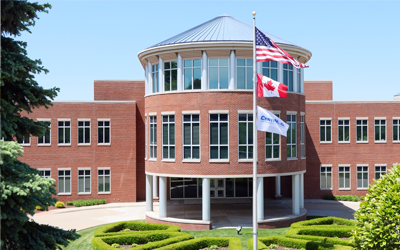 Industrial & Commercial Roofing Company
Are you in need of roofing services for an industrial or commercial business you own or operate that is located in or near Wichita, KS? If so, CentiMark is the roofing company for you!
CentiMark is a nationwide commercial roofing company that has offices located throughout the United States. The CentiMark office located in Wichita, KS services the surrounding areas including, but not limited to, Arkansas City, Dodge City, El Dorado, Garden City, Hays, Hutchinson, Newton, Pratt and Salina in Kansas. 
Commercial Roofing Systems
If interested in commercial roof replacement options for your Wichita area business, CentiMark offers a variety of options. Roof System options include Built-up Roof (BUR) Membranes, Ethylene Propylene Diene Monomer (EPDM Rubber), Polyvinyl Chloride (PVC), Metal Roofing, Modified Bitumen (Mod-Bit), Spray Polyurethane Foam (SPF), Steep Slope Roofing Systems and Thermoplastic Polyolefin (TPO) Roof Systems.
CentiMark can also assist with protecting and extending the life of your commercial roof through applying roof coatings. Available roof coating options include Acrylic, Aluminum, Copolymer and Silicone. 
All of CentiMark's industrial and commercial roof systems are installed by experienced roofing crews and are backed by CentiMark's Single Source Roof Warranty. If you are interested in exploring more about CentiMark's commercial roofing options, click here to learn more about each type of roofing system.


Green Roofing Options
If you or the Wichita area business you work for is interested in green roof options, CentiMark has roof options available. Environmentally friendly roofing solutions include: 
Daylighting (Prismatic Skylights or Light Tubes) 
Photovoltaics PV (Solar Panels) 
Cool Roofs 
Garden Roofs. 
CentiMark's green roof options can also contribute to earning LEED points. If looking to earn points, be sure to ask about qualifying options when speaking with your CentiMark appointed project manager. 
Commercial Roofing Services
CentiMark has many service offerings for your commercial roof. CentiMark provides commercial re-roofing services, preventative maintenance, roof repairs, roof cleaning and 24/7 emergency roof services. In addition to these roof services, CentiMark also offers online tools and resources to help you make informed decisions about your roof. Roofing programs include an asset alert, asset management and portfolio management program. 
The CentiMark Difference:
CentiMark is dedicated to meeting the roofing requirements of Wichita area businesses so experienced roofers will expertly evaluate the requirements of your business before providing a professional roofing recommendation. 

Commercial roofing safety is always a priority at CentiMark who always develops a safety plan and presents it to the customer before each project.  

To fulfill the needs of Wichita area businesses, CentiMark offers a Single Source Roof Warranty. This roof warranty covers both workmanship and materials and can be transferred, extended and customized.

CentiMark has commercial roofing references available which are sorted according to industry, roof type and size. 

Emergency roof repairs and warranty work can disrupt your business's productivity. To minimize downtime, CentiMark has crews of roofing contractors standing by to meet your need for these services.

Streamline commercial roofing services for your Wichita area business by taking advantage of CentiMark's roof evaluation services and online roof management tools.
Contact Us Today!
Looking for professional commercial roofing services in Wichita area? Our dedicated team is ready to assist you with all your roofing needs. Simply fill out the form below, and we'll promptly get back to you, providing the reliable solutions you're looking for!