2 minutes reading time
(331 words)
Urethane Cement and Resinous Floor Cleaning and Maintenance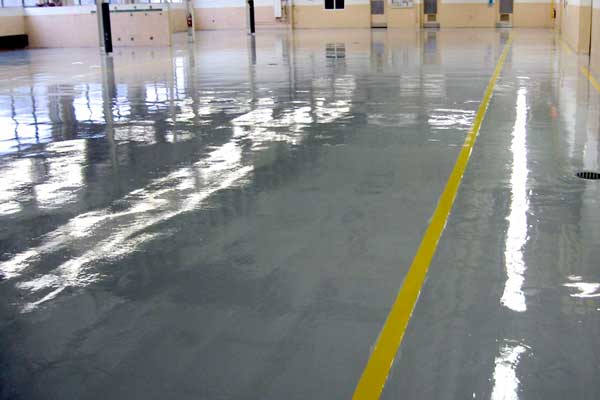 Urethane cement is an exceptionally durable commercial flooring option and is often used in areas subjected to repeated thermal cycling from hot water wash downs and chemical exposure. This type of flooring also takes safety to a new level with slip resistance and superior protection against bacteria and fungi. It simply looks great and increases your floor system's lifespan.
However, it is imperative to take proper care of your urethane cement and resinous floor. With routine cleaning and maintenance you will be able to preserve the original look and finish for a long time. Where to start?
Discuss optimal cleaners with your flooring contractor: Your urethane cement or resinous floors were designed with your specific application needs in mind. Make sure your floor cleaning solutions match those specifications. Test your commercial floor cleaner on a small area before widespread application. Check out QuestMark Cleaner/Degreaser HD, an environmentally safe alternative to industrial degreasing solvents.
Develop a schedule for cleaning and maintenance: The plan should reflect your facility's functions, traffic and seasonal increases/decreases in use. Regular cleaning and maintenance is a key component to long-lasting, safe flooring. Do you have questions regarding your floor cleaning and maintenance or need in-house training? Not a problem! Please fill out the form to your right to get in touch with our flooring specialists.
Check your floors regularly for damage: While urethane and resinous floors are well known for their extreme durability, accidents happen. Check your high traffic areas often and complete repairs such as patches and joint repairs as soon as you notice an issue to minimize the expense. Check out our commercial-grade Urethane Patch Kit for DIY repairs.
Too much on your plate? Trust QuestMark, a division of CentiMark Corporation, to handle your commercial floor cleaning and maintenance for you. An ongoing maintenance program developed by our team will keep your floors and exterior surfaces safe and in excellent condition, which will extend their useful life.
Explore our online shop for more DIY commercial flooring products.
Stay Informed
When you subscribe to the blog, we will send you an e-mail when there are new updates on the site so you wouldn't miss them.