Let's talk snow removal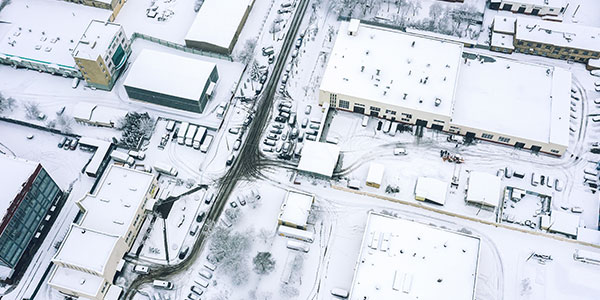 Snow and ice buildup on your roof may cause multiple issues. As winter sets in, it's essential to understand why rooftop snow removal is a crucial consideration. Here's an in-depth look at the reasons why you should prioritize removing snow from your roof this winter.
✔

Weight:

When heavy snow accumulates on your roof, its weight causes a great deal of stress on your facility. One inch of wet, dense snow equals 1.66 lbs/sq.ft. If you get six inches of snow, you will have approximately 9.96 lbs/sq.ft. If your roof is 50,000 square feet, you will have 498,000 pounds of load on top of your building that is not always distributed evenly due to snowdrifts. When the roof's weight capacity is exceeded, it could collapse.
✔

Temperature fluctuations:

Temperature fluctuations cause snow to thaw and freeze over and over. This cycle can compromise the ability of the roof to drain properly. Additionally, any cracks, tears or other damage that were not addressed before the snowfall could become worse causing roof leaks. Any ice on your roof is also a slip hazard.
✔

Your facility's rooftop projections:

HVAC units, exhaust vents, and more -- commercial roofs house multiple essential features that keep your facility running. Excessive snow and ice may block access to those systems and, in some cases, cause damage. Snow may also obstruct doors and prevent roof access.
The amount of snow on the ground doesn't necessarily represent what is on your roof. How can you track your rooftop snow and address it? CentiMark's snow monitoring system allows you to be in the know of the snow levels across your entire roof. You can monitor snow from your computer or mobile device anytime, anywhere. Once the weight of snow reaches the established point, CentiMark's crews are dispatched.
Whether you decide to install snow monitors on your roof or not, snow removal needs to be done right. Experienced commercial roofing contractors understand the complexities of industrial roofs. With over 55 years of commercial roofing expertise and over 100 locations across North America, CentiMark is a commercial roofer you can rely on. Visit this page to discuss snow removal for your facility.
Stay Informed
When you subscribe to the blog, we will send you an e-mail when there are new updates on the site so you wouldn't miss them.