Commercial & Industrial Roofing Solutions for Detroit, MI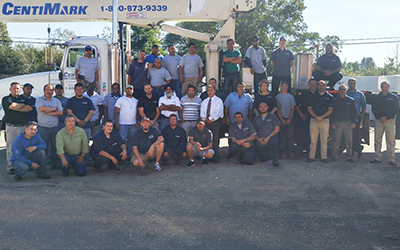 National Commercial & Industrial Roofing Contractor
CentiMark, an experienced commercial and industrial roofing contractor serving Detroit, provides tailored solutions focused on providing customers with the benefits and value they need.

CentiMark is a nationwide commercial roofing company with locations throughout the United States. This roofing office has five service crews and four production crews, is located outside of Detroit and services areas of Michigan and northern Ohio. Popular service areas include but are not limited to the cities of Detroit and Jackson in Michigan as well as Toledo in Ohio.

Commercial Roofing Systems
CentiMark offers a range of commercial and industrial roofing solutions to meet the diverse needs of our clients. Available roofing systems include TPO, PVC, EPDM (rubber roofing), Modified Bitumen, Built-up Roofing, Spray Polyurethane Foam (SPF), Roof Coatings, Metal, Steep Slope, and more. Visit our roof systems page to explore all of the commercial roofing options available for your business!

CentiMark believes in preserving the environment, which is why green roofing solutions such as daylighting, cool roofs, energy-efficient (photovoltaic) roofing, and garden roofing are available. CentiMark's green roofing options enable Detroit customers to reduce energy use while providing smart, sustainable solutions to their businesses. Click here to learn more about our green roofing solutions today!

Detroit Roofing Contractor Services
CentiMark's roofing services are unparallelled in the industry. In addition to commercial reroofing, CentiMark offers services such as emergency roof repairs, preventive maintenance, storm damage repairs , roof cleaning, roof snow removal, brick tuck pointing, safety installations and other services.

The CentiMark Difference
CentiMark, a Detroit commercial and industrial roofing contractor, employs only skilled and knowledgeable crews to service and install the best CentiMark roofing systems.
Open communication ensures customers and crews are familiar with the targeted plan of action and safety procedures.
The CentiMark Single Source Roof Warranty covers both materials and workmanship. Warranties can be modified, extended, and transferred.
CentiMark maintains up to date references specific to roof size, type, and industry.
CentiMark's experienced Detroit roofing crews perform emergency roof repairs and warranty work.
Innovative online tools and programs are geared towards roof evaluations and management of customer projects.
Need Commercial Flooring Services or Products in the Detroit area?
Contact Us Today!
Looking for professional commercial roofing services in the Detroit, MI area? Our dedicated team is ready to assist you with all your roofing needs. Simply fill out the form below, and we'll promptly get back to you, providing the reliable solutions you're looking for!