Commercial & Industrial Roofing Services in Houston, TX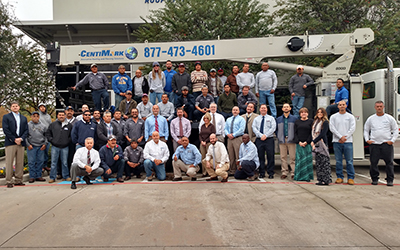 National Commercial & Industrial Roofing Contractor
As a highly-focused roofing contractor in Houston, TX CentiMark specializes in a range of superior commercial roofing and industrial roofing services.
CentiMark is a nationwide commercial roofing company with locations throughout the United States. This location in Houston services the city as well as surrounding counties. Popular service areas of this roofing office include but are not limited to Beaumont, College Station, Corpus Christi, East Texas, Katy, Pasadena, Piney Woods, Port of Houston, Richmond and The Woodlands. In addition to these areas of Texas, this CentiMark location also services the Gulf Coast and parts of Louisiana including Southern LA, Arcadia and Baton Rouge.

Houston Roofing Contractor Services
Using their highly-trained personnel, CentiMark performs a comprehensive evaluation before recommending industrial and commercial roofing solutions to their customers. This Houston commercial roofing contractor has the following roofing systems to offer its customers: TPO, EPDM (rubber roofing), Built-up Roofing, Modified Bitumen, PVC, Spray Polyurethane Foam (SPF), Roof Coatings, Metal, Steep Slope and more.

Green Roofing
At the forefront of Houston's green roofing industry, CentiMark offers energy-efficient roofing, daylighting, garden roofing, cool roofs and more. CentiMark's eco-friendly roofing options can also contribute to LEED points.

Commercial Roofing and Industrial Roofing
In an emergency situation or in the event of maintenance needs, CentiMark is ready to assist. CentiMark provides a variety of commercial roof services including preventative maintenance, storm damage repairs, emergency roof repairs, roof cleaning and roof evaluation services.


The CentiMark Difference:
In order to meet the needs of customers, Houston commercial roofing contractor CentiMark utilizes experienced crews to provide professional recommendations regarding the correct CentiMark roof that should be installed.
For each job CentiMark completes, there are extensive plans for safety, which are always shared with the customer.
To accommodate a variety of circumstances, CentiMark has a customizable Single Source warranty covering workmanship and materials that is also transferable and can be extended.
References that are specific to the industry, roof size and roof type are available to CentiMark's customers on request.
Emergency roof repairs and warranty work both have dedicated crews that are ready to tackle these urgent projects.
Online tools such as online roof management and preventative maintenance programs are provided by CentiMark.
Are You Looking For Commercial Flooring Services or Products in or Near Houston, TX?
Contact Us Today!
Looking for professional commercial roofing services in Houston, TX? Our dedicated team is ready to assist you with all your roofing needs. Simply fill out the form below, and we'll promptly get back to you, providing the reliable solutions you're looking for!