Commercial Roofing Solutions in Kalamazoo, MI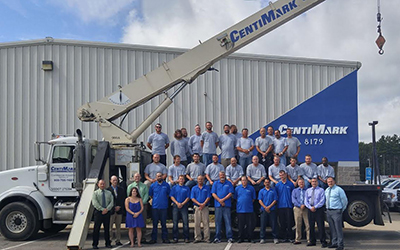 Commercial Roofing Contractor
CentiMark enjoys a sterling reputation as a Kalamazoo roofing contractor. CentiMark is a national roofing company with offices located throughout the United States. This particular location is in Kalamazoo, Michigan but services surrounding areas in Western Michigan and Indiana. Service areas in Michigan are not limited to Kalamazoo and include Battle Creek, Grand Rapids, Muskegon and beyond. Popular areas of Indiana commonly serviced include Elkhart, Fort Wayne, Goshen and South Bend.

CentiMark's Kalamazoo, MI office has an average of forty roofing technicians with four service crews and three to four production crews. All of the commercial roofing services offered through this location were developed with the needs of businesses like yours in mind.

Kalamazoo Roofing Contractor Services
CentiMark's recommendations for roofing services and solutions are delivered after the experienced team has performed a thorough commercial roofing evaluation. As Kalamazoo's top roofing contractor, CentiMark offers the following systems: PVC, Roof Coatings, Built-Up Roofing, TPO, Modified Bitumen, Metal, EPDM (rubber roofing), Spray Polyurethane Foam (SPF), Steep Slope, Green Roofing and more.

CentiMark offers total commercial roof replacement services as well as roof repairs for the roofing systems listed above. If you are dealing with roofing leaks or are thinking about a total roof replacement or installation, be sure to contact CentiMark to request a roofing estimate!

CentiMark is dedicated to providing top-notch service to your business. If you need emergency roofing services such as 24-7 emergency leak response or have maintenance needs, CentiMark provides roof cleaning, snow removal, storm damage repairs, roof evaluation services and more.

Green Roofing
As a roofing contractor who is leading the way in the green roofing industry, CentiMark offers energy-efficient roofing, garden roofing, daylighting, cool roofs, LEED and others to help your building become more ecologically sound.

The CentiMark Difference
CentiMark, a premier commercial and industrial roofing contractor, utilizes experienced crews to provide professional roofing recommendations for Kalamazoo and surrounding businesses in Michigan and Indiana.
Every commercial roofing project has a comprehensive safety plan in place that outlines the applicable procedures. This document is shared with you before any work is started.
CentiMark offers a customizable Single Source Roofing Warranty that can be extended and transferred. The warranty covers both workmanship and materials.
References are available for you to check before choosing CentiMark for your commercial and industrial roofing needs. They are filed according to roof type, industry and roof size.
Urgent projects, like emergency roof repairs and warranty work, have specialized Kalamazoo based roofing crews ready to be assigned to them to reduce the inconvenience to your business.
At CentiMark, innovative tools, such as roof evaluation programs and online roof management, are used to streamline these operational tasks for your business.
Need Commercial Flooring Services or Products in Michigan or Indiana?
Contact Us Today!
Looking for professional commercial roofing services in Michigan? Our dedicated team is ready to assist you with all your roofing needs. Simply fill out the form below, and we'll promptly get back to you, providing the reliable solutions you're looking for!