Commercial & Industrial Roofing for Nashville, TN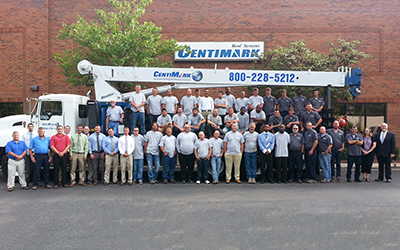 National Commercial & Industrial Roofing Company
CentiMark is a nationwide commercial roofing company with dozens of offices located throughout the United States. The CentiMark office in Hendersonville, TN services surrounding cities and towns in the Nashville, TN area. Service areas include but are not limited to Brentwood, Chattanooga, Dickson, Franklin, Lebanon, Mount Juliet, Murfreesboro, Nashville, Smyrna, Springfield and Spring Hill in Tennessee as well as parts of Kentucky including the the city of Hopkinsville. 
As the foremost industrial roofing and commercial roofing company in the Nashville area, CentiMark delivers an array of solutions designed to meet its customers' needs for value and other crucial benefits.
Industrial and Commercial Roofing Systems
CentiMark's expert roofing crews carefully evaluate each project before recommending a particular roofing system. Commercial roofing choices offered by CentiMark include: PVC (Polyvinyl Chloride), EPDM (rubber roofing), BUR (Built-up Roofing), Mod-Bit (Modified Bitumen), SPF (Spray Polyurethane Foam), TPO (Thermoplastic Polyolefin), Metal Roofing, Steep Slope Roofs and Roof Coatings (Acrylic, Aluminum, Copolymer and Silicone).
Green Roofing Options
CentiMark fully supports green roofing options and recognizes their growing influence within the industry. Garden roofing, cool roofs, daylighting and energy-efficient Photovoltaic (PV) Systems are just a few of the options offered by the company. CentiMark's eco-friendly roofing solutions can also contribute to earning LEED points so if that is something of interest, be sure to inquire about qualifying options. 
Nashville Commercial Roofing Contractor Services
CentiMark provides related roofing services beyond the installation of commercial and industrial roofs. They include roof cleaning, preventative maintenance, storm damage repairs, emergency roof repairs and more to help extend the life of the roof.
The CentiMark Difference:
As a leading Nashville, TN roofing contractor, CentiMark strives to exceed all of their customer's expectations. Their knowledgeable, local Nashville roofing crews install top-tier CentiMark roofing systems.
CentiMark establishes open communication so that all parties are aware of the safety protocols that are applicable to each project as well as the targeted plan of action.
The superior quality of CentiMark's products and workmanship are backed by a Single Source Warranty covering workmanship and materials, which can be extended, transferred and customized.
CentiMark has commercial roofing references available, which are sorted according to roof type, industry and the size of the roof.
Specialized CentiMark crews are on stand-by and are ready to tackle emergency roof repairs and warranty work promptly and thoroughly.
Forward-thinking tools that provide instant access to online roof management and roof evaluations are proudly offered by CentiMark, and are available to all Nashville area commercial roofing customers.
Need Commercial Flooring Services or Products in Nashville, TN?
Contact Us Today!
Looking for professional commercial roofing services in the Nashville area? Our dedicated team is ready to assist you with all your roofing needs. Simply fill out the form below, and we'll promptly get back to you, providing the reliable solutions you're looking for!