Commercial & Industrial Roofing Services for Birmingham, AL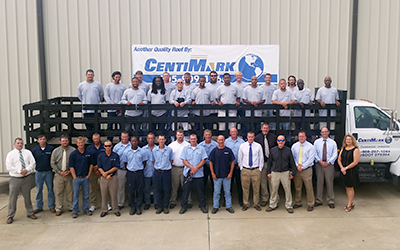 Commercial & Industrial Roofing Contractors
CentiMark is a national commercial roofing company with roofing contractors spread out across the country. This CentiMark roofing location in Alabama is headquartered in Pelham but services the surrounding areas, which include but are not limited to Birmingham, Mobile and Montgomery, AL. In addition to these locations, this commercial roofing office also services parts of Florida including Panama City, Pensacola and beyond!

As a highly-motivated commercial roofing company, CentiMark offers an expansive range of industrial roofing and commercial roofing solutions that are designed to deliver value, longevity and performance to your business.

Roofing Systems for Commercial Buildings
The foundation of the roofing services CentiMark offers you rests on a thorough evaluation of your business and its related circumstances. Only after this step has been performed, will the CentiMark roofing team recommend a roofing system that effectively and efficiently meets your needs. The following is only a partial list of the options available: EPDM (rubber roofing), PVC, Built-Up Roofing, TPO, Modified Bitumen, Spray Polyurethane Foam (SPF), Steep Slope, Metal and more. CentiMark offers both roof replacement and reroofing services.


Birmingham Commercial Roofing Services
CentiMark offers related commercial roofing services including storm damage repairs, roof cleaning, emergency repairs, preventative maintenance and more.


Green Roofing Services
As a leader in the Birmingham green roofing sector, CentiMark offers energy-efficient services such as garden roofing, daylighting, photovoltaics, cool roofs, LEED and other options.

The CentiMark Difference:
CentiMark is dedicated to meeting the needs of Alabama and Florida based roofing customers. The company's experienced crews evaluate your business' needs to make a professional recommendation regarding the ideal CentiMark.
As top-notch Birmingham area commercial roofing contractors, CentiMark emphasizes safety. The CentiMark roofing team generates a targeted plan of action and safety plan that is then shared with you before work begins.
CentiMark provides a Single Source Warranty, which can be transferable, customized, and extended.
The company's references are filed according to industry, roof type, and roof size.
CentiMark's Birmingham roofing crews tackle emergency roof repairs and warranty work for your Birmingham area business.
CentiMark's innovative online tools allow you to easily manage maintenance and other aspects of your roof.
Do you require commercial flooring services in or near Birmingham, AL?
Contact Us Today!
Looking for professional commercial roofing services in Birmingham, AL? Our dedicated team is ready to assist you with all your roofing needs. Simply fill out the form below, and we'll promptly get back to you, providing the reliable solutions you're looking for!