Commercial & Industrial Roofing Services in Boise, ID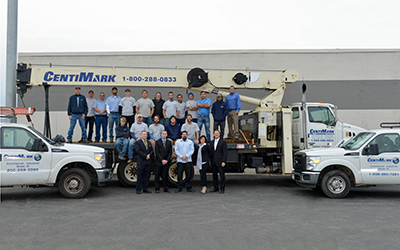 National Commercial & Industrial Roofing
CentiMark specializes in providing Boise area businesses like yours with the commercial and industrial roofing solutions you require for value and longevity.
CentiMark is a commercial roofing company with locations throughout the United States. This particular location is in Boise, Idaho. This roofing office services areas of Idaho, Oregon and Montana. Popular service areas include but are not limited to the cities of Boise, Idaho Falls, Nampa, Pocatello, Rexburg and Twin Falls in Idaho. Additional service areas outside of Idaho include Ontario in Oregon as well as Billings, Bozeman, Great Falls, Helena and Kalispell in Montana.

Commercial Roofing Systems in Boise
Before starting any work, CentiMark's highly-experienced personnel thoroughly assess the roofing needs of your business to determine which system is optimal. Commercial roofing systems include: TPO (Thermoplastic Polyolefin), Mod-Bit (Modified Bitumen), SPF (Spray Polyurethane Foam), BUR (Built-Up Roofs), PVC (Polyvinyl Chloride), EPDM (Rubber Roofing (Ethylene Propylene Diene Monomer), Metal Roofing, Roof Coatings and Steep Slope Roof Systems.
CentiMark also has numerous energy-efficient green roofing options available for Boise area businesses such as Daylighting, Photovoltaic (PV) Solar Panels, Cool Roofs and Garden Roofing. Green roofing is a great, earth-friendly way to save money on your utility bills. CentiMark's green roofing options can also help you earn LEED points so if interested, be sure to inquire about the options available that may contribute to LEED points.

Industrial and Commercial Roofing Services
In addition to commercial reroofing services, CentiMark's experienced roofing contractors offer additional roofing services for Boise area businesses including roof repairs , roof cleaning, storm damage repairs, roof leak service, snow removal, preventative maintenance, asset management and more.

The CentiMark Difference
CentiMark is dedicated to meeting the roofing needs of Boise's commercial and industrial businesses. Experienced crews expertly evaluate the needs of your business before delivering a professional recommendation on the ideal roofing system.
As a reputable Boise commercial roofing contractor, CentiMark makes roofing safety a high priority. To reach that goal, a detailed safety plan with specific actionable points is shared with you before any work starts.
CentiMark is proud of the quality of workmanship as well as the materials used. Boise customers are provided with a Single Source Warranty, which can be extended, transferred, or customized.
CentiMark is pleased to share references with you. You'll find them sorted according to roof type, roof size, and industry.
Emergency roof repairs and warranty work can cut into the productivity of your business. Crews dedicated to these crucial tasks are ready 24/7 to alleviate downtime for your company.
You can easily manage your roof evaluation program and roof management with the innovative online tools.
Do you require commercial flooring services or products in Idaho, Oregon or Montana?
Contact Us Today!
Looking for professional commercial roofing services in Boise, Idaho? Our dedicated team is ready to assist you with all your roofing needs. Simply fill out the form below, and we'll promptly get back to you, providing the reliable solutions you're looking for!