Commercial & Industrial Roofing Solutions for Knoxville, TN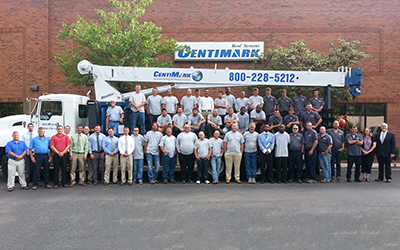 National Commercial & Industrial Roofing Contractor
CentiMark provides Knoxville area industrial and commercial businesses with high-quality roofing solutions. CentiMark is a nationwide commercial roofing company with locations throughout the US. This CentiMark office services the Knoxville, TN area and beyond with popular service areas including Athens, Greenville, Maryville, the Tri-Cities (Kingsport, Johnson City and Bristol) as well as Southwest Virginia.

Commercial Roofing Contractor in Knoxville
Before CentiMark's experienced team recommends a particular roofing system, your business undergoes a complete professional assessment. CentiMark provides both free roof inspections and free budgetary re-roof proposals. Many commercial roofing options are available including: TPO, EPDM (rubber roofing), Steep Slope, Roof Coatings, PVC, Spray Polyurethane Foam (SPF), Modified Bitumen, Built-Up Roofing, and Metal.

Green Roofing in Knoxville
CentiMark offers numerous green roofing options for Knoxville area businesses who want to be more environmentally conscious. Earth-friendly options include garden roofing, cool roofs, daylighting,and energy-efficient roofing such as photovoltaic systems. CentiMark also has options available that may contribute to LEED points so if interested, be sure to inquire about this with your CentiMark appointed project manager.


Industrial and Commercial Roofing in Knoxville
Whether your business needs an emergency roof repair or routine maintenance, CentiMark teams provide the commercial roofing services you need including storm damage repairs, roof repairs, roof cleaning, preventative maintenance and more.


The CentiMark Difference:
CentiMark is a first-class commercial roofing contractor serving businesses in Knoxville, TN and beyond. CentiMarkprovides highly-skilled teams that install and maintain premier roofing systems.
Prior to starting work on a project, customers are provided with a detailed safety plan including an action plan that highlights crucial safety measures.
CentiMark offers a flexible Single Source warranty that includes options to transfer, extend and otherwise customize the warranty to better suit your needs.
An extensive Knoxville roofing reference database is sorted according to industry, roof type and roof size.
The productivity of your business can fall significantly if you need emergency roof repairs or warranty work. CentiMark minimizes your downtime with dedicated crews who are ready to tackle these projects.
Innovative online roof management tools and roof evaluation services are designed to streamline project management for your business. CentiMark develops industrial and commercial roofing solutions with Knoxville businesses like yours in mind.
Need Commercial Flooring Services or Products in Knoxville, TN area?
Contact Us Today!
Looking for professional commercial roofing services in Knoxville area? Our dedicated team is ready to assist you with all your roofing needs. Simply fill out the form below, and we'll promptly get back to you, providing the reliable solutions you're looking for!