Commercial Roofing Solutions for Minneapolis, MN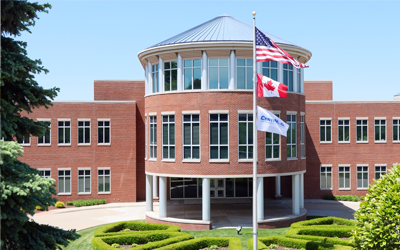 National Commercial & Industrial Roofing:
CentiMark delivers the finest in industrial roofing and commercial roofing services. CentiMark provides area businesses like yours with the design elements, value and other crucial factors you need.
CentiMark is a nationwide commercial roofing company with locations throughout the United States. This particular office in Minnesota is located right outside of Minneapolis, MN in Bloomington. CentiMark roofing contractors from this office also provide roof services to surrounding states in the midwest including areas of North Dakota, South Dakota and Wisconsin. Popular service areas for this CentiMark roofing office in MN include the cities of Albert Lea, Brooklyn Park, Duluth, Fridley, Lake City, Lakeville, Minneapolis, Rochester, Roseville, Savage, St. Paul and Willmar. Other key service areas include Fargo in North Dakota, Sioux Falls in South Dakota and Eau Claire in Wisconsin. Please note that this office's service areas are not limited to the locations listed so if you are interested in obtaining services in any of the states mentioned above, contact your local CentiMark office in MN today!

As a Minneapolis area roofing contractor, CentiMark is proud to offer innovative commercial roofing systems such as Built-up Roofing, Modified Bitumen, Spray Polyurethane Foam (SPF), EPDM (rubber roofing), PVC, TPO and more. CentiMark's roofing experts will recommend a particular roofing system after our team carefully assesses your business and its needs.

Minneapolis Roofing Contractor Services
In addition to offering commercial roof replacements, CentiMark provides a variety of supporting industrial and commercial roofing services. These services include preventative maintenance, roof repairs (small and large), roof cleaning as well as ice and snow removal services.

Green Roofing Services
If you are searching for environmentally friendly commercial roofing solutions in Minneapolis or a surrounding area, CentiMark offers numerous options including daylighting, garden roofing, cool roofs, photovoltaic (PV) solar panels, and more. CentiMark's green roofing options can also contribute to earning LEED points. If interested, be sure to ask your project manager what options are available that contribute to LEED points. For more information, contact CentiMark in MN today!

The CentiMark Difference:
CentiMark takes pride in being a premier Minneapolis roofing contractor. CentiMark employs only experienced teams that utilize a wealth of knowledge to carefully assess your needs before recommending an innovative roofing system.
As a CentiMark customer, you are furnished with a safety plan and targeted plan of action before the project is started.
CentiMark provides a Single Source roof warranty that covers both workmanship and materials and is customizable, transferable and extendable.
Roofing references for CentiMark are tailored to specific industries, roof types, and roof sizes to make it easier for you to compare them.
In order to deliver prompt attention to the crucial services of emergency roof repairs and warranty work for your business, CentiMark has dedicated commercial roofing crews on stand-by.
You can easily manage your roof by using the innovative online tools offered by CentiMark including those for preventative maintenance and roof management.
Need Commercial Flooring Services or Products in Minnesota?
Contact Us Today!
Looking for professional commercial roofing services in the Minneapolis, MN area? Our dedicated team is ready to assist you with all your roofing needs. Simply fill out the form below, and we'll promptly get back to you, providing the reliable solutions you're looking for!