Commercial Roofing Services in Omaha, NE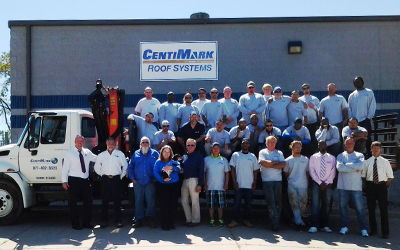 National Commercial Roofing Company
CentiMark, a leading Omaha commercial and industrial roofing contractor, specializes in providing you with roofing solutions designed to fit your needs while offering the benefits and value you want.CentiMark is a nationwide commercial roofing company with offices located throughout the United States. This office located in Omaha services the entire state of Nebraska including the city of Lincoln.This office also services areas of Iowa including Sioux City.

Commercial and Industrial Roofing Systems
CentiMark's skilled roofing crews evaluate and determine your business's needs before recommending the best commercial or industrial roofing system. Available roofing systems include: Polyvinyl Chloride (PVC), Ethylene Propylene Diene Monomer (EPDM), Thermoplastic Polyolefin (TPO), Modified Bitumen (Mod-Bit), Spray Polyurethane Foam (SPF), Built-up Roof Systems (BUR), Roof Coatings, Steep Slope, Metal Roofing, and more.

Green Roofing Options
CentiMark offers a variety of environmentally friendly roofing systems. CentiMark's green roofing options include daylighting through prismatic skylights or light tubes, Photovoltaic (PV) solar panels, cool roofs and garden roofs that incorporate vegetation into a roof's surface. 
CentiMark's eco-friendly commercial roofing options can also help your business earn LEED points. If interested in LEED points, be sure to ask about the qualifying roofing options when speaking with your CentiMark appointed project manager.

Omaha Roofing Contractor Services
CentiMark offers the best in commercial and industrial roofing for Omaha customers. CentiMark also performs a wide range of other services including emergency roof repairs, preventive maintenance, storm damage repairs, roof cleaning, rooftop snow removal, asset management and more.
The CentiMark Difference
As a leading Omaha commercial roofing contractor, CentiMark only employs experienced, skilled crew members to recommend and install the best suited roofing system for each customer's needs.
CentiMark's open communication ensures customers and crews know the applicable safety procedures and the targeted plan of action.
CentiMark offers a Single Source Warranty that can be customized, extended, and transferred. The warranty covers all materials and workmanship.
Lists of specific references organized according to roof size, type, and industry are maintained by CentiMark.
Experienced crews are ready to perform emergency roof repairs and warranty work.
Need Commercial Flooring Services or Products in Omaha?
Contact Us Today!
Looking for professional commercial roofing services in Omaha, NE? Our dedicated team is ready to assist you with all your roofing needs. Simply fill out the form below, and we'll promptly get back to you, providing the reliable solutions you're looking for!