Commercial Roofing Services for Philadelphia, PA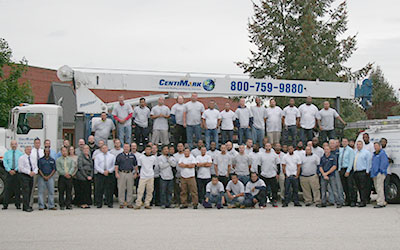 Commercial & Industrial Roofing Company
As a commercial roofing company in King of Prussia, PA this CentiMark location services the entire Philadelphia metropolitan area and beyond! This Philadelphia area roofing team has over eighty employees and one of its largest departments, is the special services team who is proficient in all types of commercial roofing service repairs. All CentiMark roofing teams deliver focused solutions that provide customers with desired elements such as value, assurance, peace of mind and more.

Commercial Roofing Systems
Prior to recommending a particular commercial or industrial roofing system, CentiMark carefully evaluates each client's needs to match them with the best system. Available solutions include: Built-up Roofing, Modified Bitumen, PVC, EPDM (rubber roofing), TPO, and Spray Polyurethane Foam (SPF) and these are just a few of the choices available. Visit our roofing systems page to further explore each type of commercial roofing system available through CentiMark. It is also important to note that all roofing systems installed by CentiMark's experienced roofing contractors are backed by a Single Source Roofing Warranty.

King of Prussia Roofing Contractor Services
In addition to commercial reroofing services, CentiMark prides itself on offering its customers an expansive range of roofing services to meet their every need. CentiMark offers a variety of roof services and programs including roof cleaning, preventative maintenance, asset management, emergency roof repairs, storm damage repairs and other services.

Green Roofing Services
CentiMark also provides options for green roofing to Philadelphia area businesses including cool roofs, garden roofing, daylighting and energy-efficient roofing such as photovoltaic systems. CentiMark also has options available that may contribute to LEED points so be sure to inquire about this if interested.

The CentiMark Difference:
CentiMark, a Philadelphia metropolitan area commercial roofing contractor, employs experienced, knowledgeable crew members to efficiently evaluate each customer's needs before recommending and installing a CentiMark roofing system.
Every CentiMark customer is presented with a targeted action plan and the safety procedures that are applicable to the roofing project.
CentiMark offers a Single Source Roof Warranty, which can be extended, transferable and customized to fit the needs of all roofing customers.
CentiMark retains commercial roofing references that are tailored to specific roof types, sizes, and industries.
Warranty work and emergency roof repairs are handled by dedicated roofing contractors that provide prompt and efficient service for every roofing project in the Philadelphia metropolitan area.
Innovative programs provide CentiMark's customers with the tools they need for online commercial roof management and evaluation services.
Need Commercial Flooring Services or Products in Philadelphia?
Contact Us Today!
Looking for professional commercial roofing services in Philadelphia? Our dedicated team is ready to assist you with all your roofing needs. Simply fill out the form below, and we'll promptly get back to you, providing the reliable solutions you're looking for!