Commercial & Industrial Roofing Solutions for Charleston, WV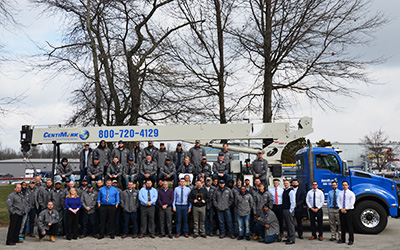 National Commercial & Industrial Roofing Company
As a premiere roofing contractor in Charleston, West Virginia, CentiMark specializes in solutions that provide customers with the benefits and value they need and expect. CentiMark is a nationwide commercial roofing company with locations spread out across the United States. Commercial roofers from this CentiMark office provide services throughout West Virginia. Popular service areas include but are not limited to the cities of Beckley, Bluefield, Buckhannon, Charleston, Edlkins, Huntington, Hurricane, Logan, Parkersburg, Point Pleasant, Princeton, Summersville and Welch. This Charleston based roofing office also services the towns of Buffalo, Delbarton, Fort Gay, Glenville as well as Sissonville.

Industrial and Commercial Roofing Systems
In order to effectively recommend the ideal industrial and commercial roofing system to best meet the needs of customers, CentiMark roofing crews will first conduct a thorough roofing evaluation Available roofing systems provided by CentiMark include BUR (Built-up Roofing), EPDM (Ethylene Propylene Diene Monomer), Mod-Bit (Modified Bitumen), SPF (Spray Polyurethane Foam), TPO, PVC, Roof Coatings, Metal Roofing, Steep Slope Roofs and more..
If looking for an environmentally friendly roofing system, CentiMark offers a variety of options including daylighting, Photovoltaics (PV) solar panels, cool roofs and garden roofs. CentiMark's green roofing solutions may even contribute to earning LEED points so if interested, be sure to inquire about that with your CentiMark appointed project manager.


Charleston Roofing Contractor Services
CentiMark provides a full spectrum of commercial roofing services including preventative maintenance, storm damage repairs, emergency roof repairs, roof cleaning, roof evaluation services and other related options that are designed to increase the roof's lifespan and improve value for customers.

The CentiMark Difference
CentiMark, a Charleston commercial roofing contractor, employs roofers that have both the expertise and knowledge to effectively recommend and install the right CentiMark roof to meet customer's unique needs.
Customers benefit from CentiMark's open communication policy. The company's targeted plan of action and safety procedures are communicated to the customer prior to the start of any work.
CentiMark offers a Single Source Roof Warranty covering workmanship and materials. The warranty can be customized, extended, or transferred.
References for specific roof sizes, types, and industry are maintained by CentiMark's local Richmond roofing office.
The CentiMark Charleston office has experienced commercial roofing crews ready to perform warranty work and emergency roof repairs in a timely manner.
Online roof management and preventative maintenance are only two of the forward-thinking programs and tools offered by CentiMark.
Need Commercial Flooring Services or Products in West Virginia?
Contact Us Today!
Looking for professional commercial roofing services in Charleston, WV? Our dedicated team is ready to assist you with all your roofing needs. Simply fill out the form below, and we'll promptly get back to you, providing the reliable solutions you're looking for!