Commercial & Industrial Roofing Solutions in Fort Wayne, IN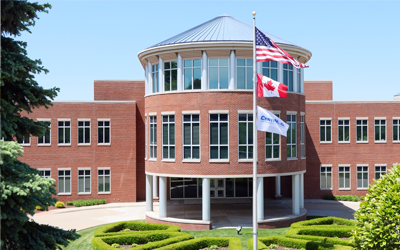 Commercial & Industrial Roofing
CentiMark, located in Fort Wayne, IN, delivers complete roofing systems and related services to local businesses. This CentiMark location is located in Fort Wayne, IN but services areas throughout the rest of Indiana including Angola, Butler, Columbia City, Decatur, Dunkirk, Fort Wayne, Fremont, Huntington, Kendallville, Ligonier, Logansport, Monticello, Peru, Portland, Wabash and Warsaw. In addition to these locations, this office also provides commercial roofing services to areas in Ohio and Michigan. Popular service areas for Ohio include Archbold, Bowling Green, Defiance, Fremont, Lima, Maumee, Paulding, Perrysburg, Saint Marys, Tiffin and Toledo while popular areas of Michigan include Adrian, Carrollton, Jackson and Monroe.

Commercial Roofing Services
CentiMark knows that your roof is as unique as your business so time is devoted to completing an evaluation before recommending roof repairs or roof replacement. Options include: Built-Up Roofing, PVC, Spray Polyurethane (SPF), EPDM (rubber roofing), TPO, Modified Bitumen, Roofing Coating, Metal, Steep Slope, and others.

Fort Wayne Roofing Contractor Services
In addition to the installation services, CentiMark also offers preventative maintenance, asset management, storm damage repairs and more.


Green Roofing Services in Fort Wayne
CentiMark is a leading contractor in the green roofing industry providing daylighting, garden roofing, cool roofs, LEED and other green roofing services. Earth-friendly services are available for industrial roofing and commercial roofing customers in Indiana, Ohio and Michigan.
The CentiMark Difference
As the leading commercial and industrial roofing contractor in Fort Wayne, IN, CentiMark's professional crews effectively evaluate the roofing needs of your OH, IN or MI based business before installing the ideal roofing system.
At CentiMark, the safety of everyone involved in the commercial roofing project is extremely important. Prior to the start of your roofing project, CentiMark develops a thorough safety plan, complete with a targeted action plan. The plan is reviewed with all customers prior to kicking off your roofing project.
CentiMark is proud of its quality and workmanship. All work is backed up with a single source roof warranty that offers flexible options for customization, extensions, and even transferability.
CentiMark has Fort Wayne commercial roofing references that are sorted by roof size, type and industry for ease of use, and are available to you upon request.
Dedicated CentiMark teams are standing by to handle all of your emergency roof repairs as well as any warranty work your business requires.
CentiMark puts easy-to-use tools, like the roof evaluation tools and online roof management system, in your hands to help you keep tabs on your commercial roofing projects.
Need Commercial Flooring Services or Products in Fort Wayne, IN?
Contact Us Today!
Looking for professional commercial roofing services in Fort Wayne, IN area? Our dedicated team is ready to assist you with all your roofing needs. Simply fill out the form below, and we'll promptly get back to you, providing the reliable solutions you're looking for!