Commercial Roofing Solutions in Greensboro, NC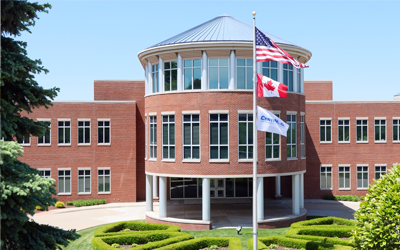 National Commercial & Industrial Roofing Company
CentiMark is a nationwide commercial roofing company. With locations spread across the United States, CentiMark is able to provide roofing services throughout the country. This particular office is located in Greensboro, NC and services the surrounding areas including the cities of High Point and Winston-Salem. CentiMark is dedicated to delivering innovative commercial roofing solutions for Greensboro area businesses like yours.

Commercial Roofing Systems
CentiMark, an experienced roofing contractor in Greensboro, evaluates customers' needs before recommending the best commercial roofing system to meet your needs. Available roof system options include: Built-up Roofing Systems (BUR), Ethylene Propylene Diene Monomer (EPDM), Polyvinyl Chloride (PVC), Thermoplastic Polyolefin (TPO), Spray Polyurethane Foam (SPF), Modified Bitumen (Mod-Bit), Steep Slope, Roof Coatings, Metal Roof Systems and more.
CentiMark also offers numerous green roofing options if your business is environmentally conscious and looking to reduce utility costs. CentiMark can help make the transition to green roofing. Our green roof options include daylighting, garden roofing, cool roofs, and other energy-efficient roofing systems such as Photovoltaic (PV) systems.

Greensboro Area Roofing Contractor Services
Whether you need emergency repairs to your commercial roof, asset management, or preventative maintenance to keep your roof in top shape, CentiMark is here to provide the service you need to extend the life of the roof. Visit CentiMark's roof services page to learn more about commercial roof services and program offerings.
The CentiMark Difference
When looking for industrial and commercial roofing services in the Highpoint - Greensboro area, you can trust CentiMark to deliver. The highly-trained crew of roofers will recommend and install the roofing system that best meets the needs of the customers.
Open communication with customers ensures everyone knows about the applicable safety procedures and the targeted plan of action.
CentiMark provides the customers with a Single Source Roof Warranty covering workmanship and materials. The warranty can be transferred, customized, or extended.
It is normal to want references, so CentiMark keeps them ready for you to review based on roof size and type.
The specialized crew of this Greensboro roofing contractor has experts on hand to perform any emergency roof repairs or warranty work that arises.
When it comes to proper roof management and roof evaluations, CentiMark offers innovative online tools and programs centered on roof evaluations and online roof management.
Need Commercial Flooring Services or Products in Greensboro, NC?
Contact Us Today!
Looking for professional commercial roofing services in the Greensboro, NC area? Our dedicated team is ready to assist you with all your roofing needs. Simply fill out the form below, and we'll promptly get back to you, providing the reliable solutions you're looking for!