Commercial Roofing Services for the San Francisco Bay Area in CA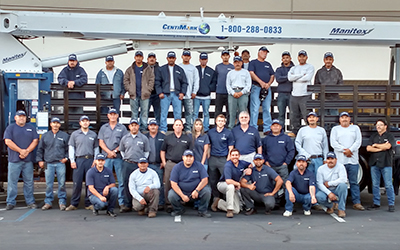 Bay Area Commercial & Industrial Roofing
CentiMark is dedicated to providing their San Francisco, CA area commercial roofing customers with the best in service and value. This CentiMark office in LiverMore, CA services the entire San Francisco Bay Area and beyond including the cities of San Jose and Oakland. The service area for this office includes areas from San Francisco down to Watsonville and out to Livermore, CA. The Bay Area CentiMark office has five commercial roofing service and repair crews as well as an additional seven crews that focus on production and installation.

Commercial Roofing Services
With their knowledgeable commercial roofing crews on-site, CentiMark's roofing experts perform a thorough evaluation of each customer's situation to determine the best commercial and industrial roofing system. Some options include TPO, Spray Polyurethane Foam (SPF), EPDM (rubber roofing), Modified Bitumen, PVC, Built-up Roofing, Roof Coatings, Metal, Steep Slope and others.
Are you interested in learning more about the commercial roofing options offered by CentiMark? If so, click here to learn about all the major roofing systems installed by CentiMark's experienced commercial roofing crews.
CentiMark aims to offer its commercial roofing customers diverse services designed to meet their needs. So in addition to industrial and commercial reroofing services, CentiMark also performs storm damage repairs, emergency roof repairs, gutter cleaning, preventative roof maintenance, roof evaluation services and other services such as free roof inspections.

Eco-Friendly Roofing Choices
Today's commercial and industrial businesses are turning to green options for their roofs. If you are in the market for an environmentally friendly roofing solution, CentiMark installs garden roofs, daylighting, cool roofs, garden roofs and others to meet those needs. You can even earn LEED points with some of these options so be sure to inquire about this with your project manager.

The CentiMark Difference:
As a San Francisco area commercial roofing contractor, CentiMark's crews provide a full array of CentiMark roofing systems.
CentiMark places a great deal of emphasis on safety procedures and always develops a safety plan for each project. This plan is communicated with the customer.
As a top-quality San Francisco Bay Area commercial roofing contractor, CentiMark offers a Single Source Warranty that can be customized to the customer's needs as well as extended or transferred.
For ease of use, CentiMark provides roofing references, which are sorted by roof type, roof size and industry.
In order to address a customer's crucial needs, CentiMark maintains commercial roofing crews dedicated to warranty work and emergency repairs.
This San Francisco area roofing contractor offers online roof management and preventative maintenance program tools.
Need Commercial Flooring Services or Products in the San Francisco Bay Area?
Contact Us Today!
Looking for professional commercial roofing services in the San Francisco area? Our dedicated team is ready to assist you with all your roofing needs. Simply fill out the form below, and we'll promptly get back to you, providing the reliable solutions you're looking for!