Commercial Roofing Services for NJ & NYC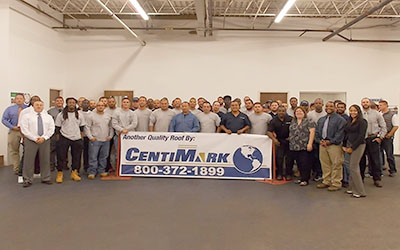 National Commercial & Industrial Roofing Contractor
As a highly-experienced roofing contractor in South Plainfield, NJ, CentiMark offers its industrial and commercial roofing customers the specialized roofing services they need.

CentiMark is a nationwide commercial roofing company with locations throughout the United States. This location in South Plainfield has 85 employees that service the surrounding areas of NJ including central and northern New Jersey. This commercial roofing team also services the five boroughs of NYC including the Bronx, Brooklyn, Manhattan, Queens and Staten Island.

Commercial Roofing Systems
Once CentiMark's professional roofing crews perform a comprehensive inspection, a particular roofing system will be recommended. Some options for roofing systems include; TPO, PVC, Modified Bitumen, Built-up Roofing, EPDM (rubber roofing), Spray Polyurethane Foam (SPF), Roof Coatings, Metal, Steep Slope as well as others. If interested in exploring the various commercial roofing systems available for installation by our talented team, please visit the CentiMark website today!

NJ Roofing Contractor Services
CentiMark does more than commercial reroofing. Our experienced roofing contractors provide a variety of roof services and programs that are unparalleled in the industry. Commercial roof services offered by CentiMark include preventative maintenance, storm damage repairs, roof cleaning, roof evaluations, 24-hour emergency roof service and other services like roof snow removal.

Green Roof Systems
Cool roofs, garden roofing, daylighting and energy-efficient roofing are just a few examples of the green roofing options that CentiMark offers to its industrial and commercial roofing customers. CentiMark's environmentally-friendly commercial roofing solutions can also contribute to LEED points so if interested in earning LEED points with your next roofing project, CentiMark can assist.

The CentiMark Difference:
As the industry leader in commercial roofing in NJ and NYC, CentiMark's roofing systems are installed by skilled CentiMark crews.
CentiMark places a high premium on safety. Each job has its own safety plan and procedures that are developed specifically for it. These are reviewed extensively with the customer.
CentiMark's workmanship and products are of superior quality. They are covered under CentiMark's own Single Source warranty and can be customized for your specific needs.
This NJ commercial roofing contractor has references available that are sorted based on roof type, industry and roof size.
CentiMark knows how vital emergency roof repairs and warranty work are to a business's productivity. This is why CentiMark maintains roofing crews that are dedicated solely to these jobs.
CentiMark's commercial roofing contractors offer customers in NJ & NYC the option to manage their roofing projects online, as well as their service and maintenance programs.
Need Commercial Flooring Services or Products in New Jersey?
Contact Us Today!
Looking for professional commercial roofing services in New Jersey? Our dedicated team is ready to assist you with all your roofing needs. Simply fill out the form below, and we'll promptly get back to you, providing the reliable solutions you're looking for!