Commercial Roofing Services for Buffalo, NY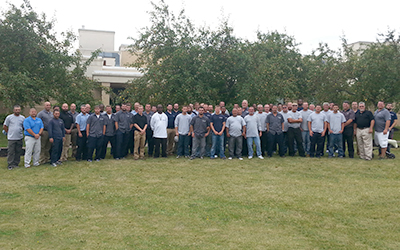 National Commercial & Industrial Roofing
CentiMark has extensive experience within the commercial and industrial roofing industries. At CentiMark, our focus is on providing customers with a value-and benefits-driven solution to fulfill all roofing needs.
CentiMark is a nationwide commercial roofing company with locations throughout the United States. This CentiMark office, which is located in Tonawanda NY, services the surrounding areas including the cities of Buffalo, Jamestown and Rochester as well as the Niagara Region.

Commercial and Industrial Roofing Services in Buffalo
CentiMark offers a number of diverse and high-quality roofing options for Buffalo area commercial and industrial customers including TPO (Thermoplastic Polyolefin), PVC (Polyvinyl Chloride), SPF(Spray Polyurethane Foam), Mod-Bit (Modified Bitumen), EPDM (Ethylene Propylene Diene Monomer) rubber roofing, BUR (Built-Up), Roof Coatings, Metal Roofs and Steep Slope Roofing.

CentiMark also knows how important green roofing is to the industry today. At CentiMark, we offer environmentally friendly green roofing solutions such as garden roofs, cool roofs, skylights and Photovoltaic (PV) solar panels to meet this demand. CentiMark's green roofing systems can also contribute to LEED points so if interested, be sure to inquire about this with your CentiMark appointed project manager!


Additional Roofing Contractor Services
In support of our roofing customers, CentiMark also provides commercial roof services including reroofing, preventative maintenance, roof inspections, storm damage repairs, emergency roof repairs, roof cleaning and more. In fact, due to the lake-effect snow that occurs in and around the Buffalo area, CentiMark's snow removal services are quite popular. With CentiMark's snow removal service you can keep your property and employees safe by having snow and ice removed as soon as there is accumulation. This helps prevent damage and a possible roof collapse.

The CentiMark Difference:
CentiMark is Buffalo's leader in the industrial and commercial roofing industries. CentiMark's local roofing contractors install high-quality CentiMark products.
The safety of everyone is governed by a safety plan and targeted plan of action that is customized to each roofing project. Safety plans are distributed to each customer prior to beginning each commercial roofing project.
CentiMark strives to provide the best in both workmanship and products within the Buffalo, NY roofing industry. CentiMark provides assurance of this with a Single Source Roof Warranty that can be customized, transferred and extended.
CentiMark has numerous roofing references that are classified according to roof size, industry and roof type.
A business counts on having emergency roof repairs and warranty work completed quickly and correctly in order to maintain its productivity. CentiMark supports businesses by having dedicated local Buffalo commercial roofing crews ready to serve you.
CentiMark provides its customers with responsive roof management tools, such as roof evaluation programs and online roofing tools.
Need Commercial Flooring Services or Products in or Near Buffalo, NY?
Contact Us Today!
Looking for professional commercial roofing services in Buffalo, NY? Our dedicated team is ready to assist you with all your roofing needs. Simply fill out the form below, and we'll promptly get back to you, providing the reliable solutions you're looking for!