Commercial Roofing Services in Chesapeake, VA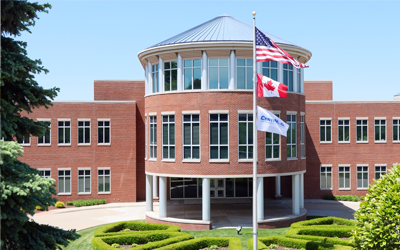 National Commercial & Industrial Roofing
CentiMark is a nationwide commercial roofing company. This CentiMark location is located in Chesapeake, VA and services the city as well as Hampton, Newport News, Norfolk, Portsmouth, Suffolk, Virginia Beach and beyond!
CentiMark is the premier commercial roofing contractor in Chesapeake, VA. CentiMark focuses on delivering the best roofing systems that meet your needs for value and other critical elements.

Commercial and Industrial Roofing Systems
Before CentiMark's crews recommend a roofing system, experienced roofing contractors thoroughly evaluate your needs by conducting a complementary roof inspection. Some commercial roofing choices include Built-up Roofing, Modified Bitumen, TPO, EPDM, Spray Polyurethane Foam (SPF), PVC, Roof Coatings, Metal, Steep Slope and many more.

Chesapeake Roofing Contractor Services
In addition to installing the finest roofing systems, CentiMark provides support services such as emergency roof repairs, preventative maintenance, roof cleaning, gutter replacement, asset management and more.

Green Roofing Services
CentiMark is at the forefront of the green roofing industry. CentiMark provides innovative and energy-efficient choices such as garden roofing, green roofing, daylighting, cool roofs and others. CentiMark's environmentally friendly roofing solutions can also help you earn LEED points.


The CentiMark Difference:
CentiMark is a leading roofing contractor in Chesapeake, Virginia. CentiMark has dedicated and knowledgeable crews with the expertise to thoroughly evaluate the needs of your business, so the right roofing system can be recommended and installed.
CentiMark places a great deal of value on safety. A safety plan and targeted action plan are developed and delivered to you before your Chesapeake area roofing project starts.
Single Source warranty options from CentiMark can be transferable, customized, and extended.
All of CentiMark's references are filed according to properties such as roof size, industry, and roof type for easy access.
Emergency roof repairs and warranty work are completed by CentiMark's local Chesapeake roofing crews that are on standby for such projects.
You can easily manage your roof by using CentiMark's innovative online tools for roof evaluations and project management.
Need Commercial Flooring Services or Products in Chesapeake?
Contact Us Today!
Looking for professional commercial roofing services in Virginia? Our dedicated team is ready to assist you with all your roofing needs. Simply fill out the form below, and we'll promptly get back to you, providing the reliable solutions you're looking for!