Commercial & Industrial Roofing Solutions in Indianapolis, IN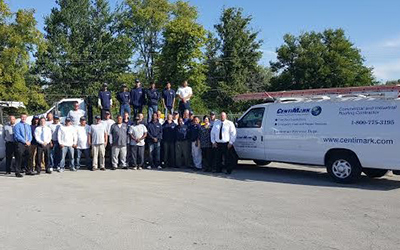 Commercial & Industrial Roofing
CentiMark, an experienced Indianapolis commercial roofing company provides roofing services to customers in Indianapolis and the surrounding areas. CentiMark's experienced commercial roofing contractors offer focused solutions that provide customers with the value and peace of mind they deserve.

Before recommending the best commercial and industrial roofing systems, CentiMark's expert crews evaluate the needs of each customer. Available roofing options include PVC, TPO, EPDM (rubber roofing), Modified Bitumen, Built-up Roofing, Spray Polyurethane Foam (SPF), Roof Coatings, Metal, Steep Slope and more!

Indianapolis Roofing Contractor Services
In addition to offering full roof replacements, CentiMark offers roofing inspections, emergency roof repairs, preventive maintenance, storm damage repairs, and roof cleaning services.

Green Roofing Options
Green roofing systems are available to help customers reduce their carbon footprint. CentiMark offers daylighting, photovoltaic (PV) Systems, cool roofs, and garden roofs to help Indianapolis customers cut down on their energy bills.

The CentiMark Difference
To meet each customer's exact needs, CentiMark, an Indianapolis based commercial and industrial roofing contractor, employs experienced roofing teams to recommend and install the best roofing system.
Open communication guarantees customers and teams are familiar with the applicable safety procedures and targeted plan of action.
CentiMark's single source warranty can be customized, extended, and transferred. All warranties cover both materials and workmanship.
CentiMark maintains specific references based on roof size, type, and industry.
Expert roofing contractors are dispatched to perform emergency repairs and warranty work throughout Indianapolis and surrounding areas.
CentiMark offers clients innovative online tools and programs for preventative maintenance and project management.
Do you require commercial flooring services in the Indianapolis, IN area?
Contact Us Today!
Looking for professional commercial roofing services in Indianapolis area? Our dedicated team is ready to assist you with all your roofing needs. Simply fill out the form below, and we'll promptly get back to you, providing the reliable solutions you're looking for!