Commercial & Industrial Roofing Services for Kansas City, KS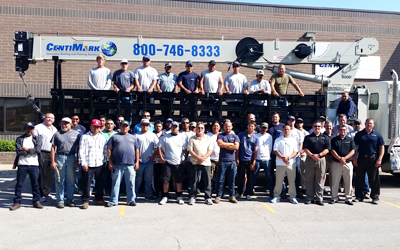 Commercial & Industrial Roofing Contractor
As a roofing contractor serving Kansas City, CentiMark is focused on delivering the high-quality commercial and industrial roofing solutions your business needs. This CentiMark office located in Lenexa services the surrounding areas including but not limited to Dodge City, Kansas City, Lawrence, Topeka and Wichita in Kansas as well as Columbia, Kansas City, Springfield and Warrensburg in Missouri.
This CentiMark location in Kansas consists of six service crews and multiple production crews that provide commercial roof repairs, snow removal, replacement roofs, guttering and much more!

Kansas City Commercial Roofing Services
CentiMark employs only those personnel who have an upper level of experience and expertise. These attributes are used to evaluate your commercial roofing needs and recommend a roofing system such as TPO, Built-Up Roofing, Spray Polyurethane Foam (SPF), EPDM (rubber roofing), PVC, Steep Slope or metal roofing.

In addition to installing commercial roofing systems, CentiMark also offers emergency roof repairs, preventative maintenance, roof cleaning and more.


Green Roofing Services
CentiMark is also an industry leader in the Kansas City green roofing industry. CentiMark provides services such as garden roofing, LEED, daylighting, and cool roofs.

The CentiMark Difference:
The experienced Kansas City commercial roofing teams at CentiMark have the expertise to make professional evaluations and recommendations so you will have the right type of roof installed.
CentiMark keeps its focus on the safety of everyone involved. CentiMark does so by developing a comprehensive safety plan and a targeted plan of action before work begins on your roofing project. This information is shared with you at the outset.
CentiMark offers customers a single source roof warranty that is transferable, customizable, and extendable to cover your commercial roofing project in Kansas or Missouri.
References are sorted according to roof type, roof size and industry, which makes it easy for you to compare results.
Warranty work and emergency roof repairs don't have to slow your business down. As a Kansas City area commercial roofing contractor, CentiMark maintains dedicated crews for these services.
CentiMark makes it easy for you to stay current on the roofing services your business needs. Take advantage of CentiMark's roof evaluation services and online roof management tools.
Need Commercial Flooring Services or Products in Kansas City, KS?
Contact Us Today!
Looking for professional commercial roofing services in the Kansas City area? Our dedicated team is ready to assist you with all your roofing needs. Simply fill out the form below, and we'll promptly get back to you, providing the reliable solutions you're looking for!