Commercial Roofing Solutions in Syracuse, NY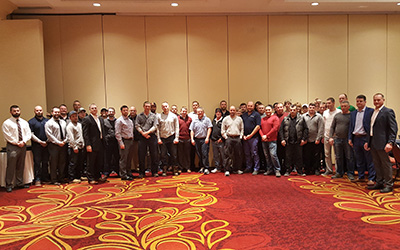 National Commercial & Industrial Roofing
CentiMark is the premier roofing contractor in Syracuse and provides an expansive roster of solutions designed to meet the needs of commercial and industrial customers in regards to features, benefits and value.
CentiMark is a nationwide commercial roofing company. This office located in East Syracuse, NY services Onondaga County including the city of Syracuse as well as surrounding areas including but not limited to the cities of Auburn, Binghamton and Utica. When asked what makes this office successful, this Syracuse based commercial roofing group was proud to announce they are confident in their ability to effectively communicate from field to management in order to make their customers' needs their top priority.

Industrial and Commercial Roofing Systems
Once CentiMark is contacted regarding a potential roofing project, the planning phase begins and expert commercial roofing contractors will head out to the location to perform a thorough roof inspection. From that roofing evaluation, experienced crews will make recommendations regarding the customer's roof and needs.
Commercial roof systems offered by CentiMark include TPO, EPDM (rubber roofing), Built-up Roofing, Spray Polyurethane Foam (SPF), Modified Bitumen, PVC, Roof Coatings, Metal, Steep Slope and more.
CentiMark also provides Syracuse area commercial businesses with a variety of green roofing options including garden roofs, daylighting using prismatic skylights, cool roofs, and Photovoltaic (PV) solar panels. CentiMark's environmentally friendly roofing solutions may also contribute to LEED points so if interested, please be sure to inquire about that.


Syracuse Roofing Contractor Services
In addition to full roof replacements, CentiMark delivers specialized roofing services such as roof cleaning, emergency roof repairs, preventative maintenance, storm damage repair, snow removal and more! CentiMark's commercial roofing services are unparalleled in the industry. Experienced roofing contractors are ready to inspect, repair and service your roof in order to help prolong the life of your investment.

The CentiMark Difference
CentiMark is the industry leader in industrial and commercial roofing in Syracuse, NY. CentiMark's highly-skilled contractors expertly install roofing systems to the company's standards.
Safety is CentiMark's primary concern. This is why CentiMark always follows a safety plan and planned procedures that are shared with customers before every roofing project.
CentiMark stands firmly behind its products and workmanship by offering a Single Source Roofing Warranty that can be customized, transferred, and extended to fit the specific needs of the customer.
As a Syracuse commercial roofing contractor, CentiMark maintains an extensive list of references that are sorted according to roof size, type and industry.
Urgent situations, such as emergency repairs and warranty work, are handled by CentiMark's local Lakeland roofing crews who handle them promptly.
Innovative tools, such as roof evaluation programs and online roof management, are provided by your local CentiMark roofing in Syracuse, NY
Need Commercial Flooring Services or Products in Syracuse, NY?
Contact Us Today!
Looking for professional commercial roofing services in the Syracuse area? Our dedicated team is ready to assist you with all your roofing needs. Simply fill out the form below, and we'll promptly get back to you, providing the reliable solutions you're looking for!