Commercial & Industrial Roofing Services for Tulsa, OK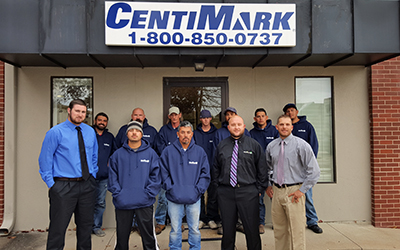 National Commercial & Industrial Roofing
CentiMark is a nationwide commercial roofing company with roofing offices located throughout the United States. This CentiMark office is located in Edmond, OK but services the entire state including the cities of Tulsa and Oklahoma City. The focus of this office is on providing Tulsa area businesses and beyond with smart, efficient, and high-value roofing solutions required to thrive and grow.

Commercial Roof Systems
Once you contact CentiMark for your roofing needs, the unique needs of your Oklahoma business will be thoroughly assessed by CentiMark's commercial roofing contractors before a recommendation will be made regarding what roofing system is a best fit for your needs. Commercial roofing systems available through CentiMark include: Spray Polyurethane Foam (SPF), Thermoplastic Polyolefin (TPO), EPDM (rubber roofing), Modified Bitumen (Mod-Bit), Built-Up Roofs (BUR), Polyvinyl Chloride (PVC), Roof Coatings and others.

CentiMark is also Tulsa's premier provider of green roofing systems. Environmentally friendly roofing options include: cool roofs, garden roofing, daylighting (through prismatic skylights or light tubes) and Photovoltaics (solar panels). CentiMark's green roofing options can also help you earn LEED points so be sure to inquire about this when reviewing your roofing options with a CentiMark appointed project manager.

Commercial Roofing Contractor in Tulsa
In addition to installing top-quality roofing systems and providing reroofing services, CentiMark's commercial roofing contractors offer other services such as:

The CentiMark Difference
As a Tulsa commercial and industrial roofing contractor, CentiMark strives to meet the needs of your business. CentiMark's dedicated and experienced crews provide professional roofing recommendations after a comprehensive evaluation.
The safety of everyone involved is a top priority for CentiMark. Safety objectives are achieved by developing a thorough safety plan that is shared with you prior to any work starting.
CentiMark stands behind all of the roofing systems, workmanship, and materials. A Single Source Warranty is flexible enough to meet the needs of any Tulsa business. It is extendable, customizable, and transferable.
References at CentiMark are conveniently sorted according to relevant criteria including roof size, industry and roof type.
CentiMark knows how disadvantageous emergency roof repairs and warranty work can be in terms of the flow of your workday. These time-sensitive issues are addressed by specialized crews.
At CentiMark, online service tools, such as online roof management and roof evaluation programs, are designed to streamline your business operations.
Need Commercial Flooring Services or Products in Tulsa, OK?
Contact Us Today!
Looking for professional commercial roofing services in Tulsa area? Our dedicated team is ready to assist you with all your roofing needs. Simply fill out the form below, and we'll promptly get back to you, providing the reliable solutions you're looking for!